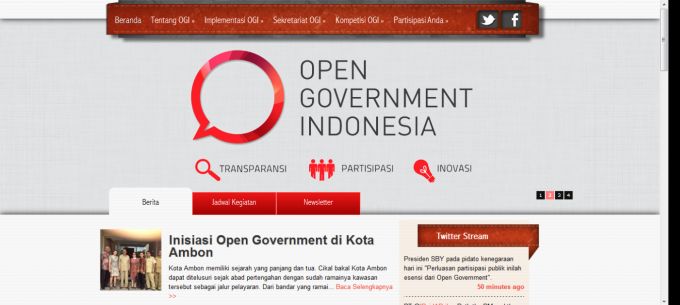 As an Indonesian, I tend to think that most of my government agencies perform terribly when it comes to serving the public. And it is one of the main objectives of Indonesia's president, Susilo Bambang Yudhoyono, to conduct bureaucratic reform in his now two terms in power. Thanks to the internet, that shake-up is happening right now as some public services – like renewing a drivers' license – become available online.
Meet Open Government Indonesia. It is part of the Open Government Partnership, a multilateral initiative that aims to make governments better. In Indonesia, Open Government Indonesia focuses on pushing transparency, public participation, and innovation across government departments.
One of its big programs is the Open Government Competition. The recent competition saw no fewer than 62 public service agencies coming from 34 ministries. Ayu Kartika Dewi, Head of Open Government Indonesia Secretariat, informed us that the competition requires participants to show a program which will ensure a measurable improvement in their service in three months time.
At the awards night last Friday, 10 innovations were named as finalists. Although not all of these innovations are tech related, some of these winners show encouraging progress in incorporating the use of information technology to enhance public services. Here is a short list of notable use of technology among the finalists:
Inatrade, demoed by the Ministry of Trade, enables people to apply for trade-related licenses online. Named as the winner of this competition, I do find that the web app is the most rich-featured and accessible for the public.
Similarly, the Passport Administration System in South Jakarta allows people to apply for their passport online. Although I had some difficulty finding the actual service in internet, I ended up finding it here.
Online Driving License Registration, rolled out by the DKI Jakarta Police Department, enables citizens to apply or extend their driving license online and complete the whole process in just two working days.
When asked what the next step for Open Government Indonesia is, Ayu answered that they are currently developing a portal named Satu Layanan (which means "One Service"). This portal is meant to serve as the place to go when you need any information about any service from a government agency. Ayu even gave us a preview of what the portal will look like: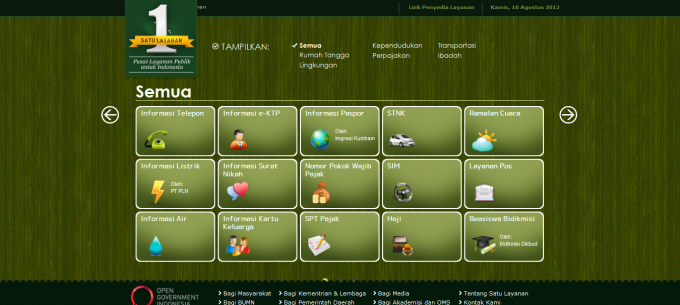 In its current form, Satu Layanan holds information on services from 41 government agencies containing various information such as electricity bills, taxes, and weather forecasts. When you navigate to one of the icons in the portal (as shown in the picture above), the website will show you more detailed information about the service you selected (as shown in the picture below). I think this a step in the right direction to improve public services in Indonesia.