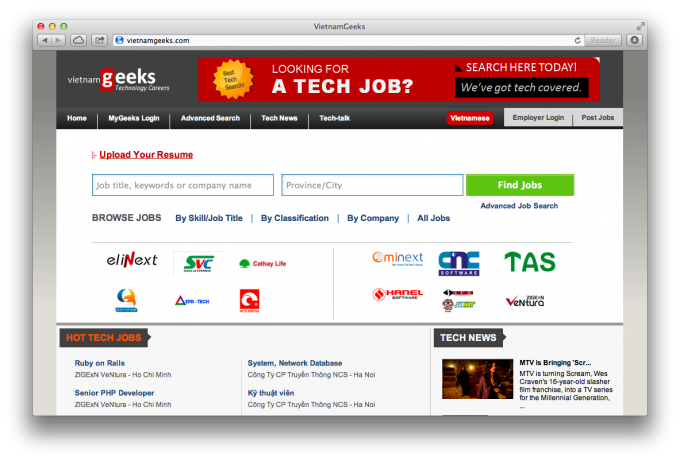 In Vietnam's growing startup and outsourcing market, it's been a tough task to get the best software engineering talent. On one side, outsourcing companies are basically brain-draining all the best talent, and on the other side companies pay cheap for engineers whose quality reflects their price.
In the online recruitment market, we've got big folks like Vietnamworks and Kiemviec, both recently acquired by foreign companies, and tiny interesting code competition projects like Geeky.vn. Plus, since late 2011, there's been VietnamGeeks.
I talked with VietnamGeeks CEO John Vuu about his company, which helps IT companies recruit engineers, and asked him for some insights into the engineering culture in Vietnam. For John, who is from the US, this is not his first startup, having founded a dating website called PebbleClub in the States before coming to Vietnam. The dating site didn't make it, but that's par for the course. Failing is a rite of passage in entrepreneurship and John has since moved on to VietnamGeeks.
Today, VietnamGeeks lists anywhere from 350 to 400 new job posts per month from Vietnamese companies as well as foreign companies, a number that has doubled since last year, and has a catalog of over 6,000 resumés. The number of job listings has doubled since last year.
According to John, engineers really need to polish their CV skills:
In just a few years, the scene has grown a lot. Engineers' resumes have improved and there's more people in the scene.
Lots of engineers here assume that they should have a resume that is full of skills, but they don't realize they need to get a really specific skill that they can build a career on top of. You can't be good at everything.
Indeed, they've had to turn away many resumés because software developers generally don't know how to write one.
Going forward, John is looking to pack in more community elements for the site like a forum and something similar to StackOverflow so that software developers can share knowledge and get to know each other. He wants VietnamGeeks to be the central place for people to go to for engineering jobs. This will be an interesting path as the company must compete directly with bigger sites like VietnamWorks and KiemViec who have larger portfolios of resumes but don't have a focus on technology.
Vietnam's engineering culture
Recently, I calculated with a few engineering buddies of mine that there are about 50,000 engineers in Ho Chi Minh city (just a guesstimate) and John confirmed for me that there are about 6,000 engineers graduating every year across Vietnam. In Hanoi, there might be about 60,000 engineers, since it has a reputation for producing good student in this field.
For this group, John sees a few key setbacks:
In Vietnam, there's this thinking, possibly from family values, that if I'm an engineer in three years, I should be promoted to manager. They don't want to focus and become good engineers. But they don't realize that 10 years in Vietnam is probably equal to five years in the States of experience. Also, many engineers are in their 20s, that means people like system architects and product managers are harder to find. The really talented folks are often picked up very fast.
It's clear that although becoming more aggressive and competitive, Vietnam's engineering culture is still quite young, but that comes with the territory of being a developing nation. With over 100,000 engineers in the country, it'll take some time to get really mature.