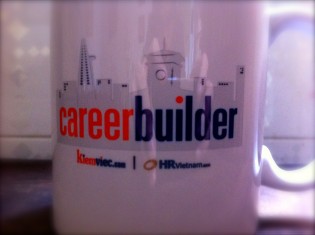 CareerBuilder (NYSE:GCI), one of the largest American job and recruitment companies, is acquiring Vietnam Online Network (VON) for an undisclosed amount. The deal includes just two of VON's four main sites, HRVietnam and KiemViec, which are the principal real estates that CareerBuilder is after.
VON was founded in 2007 and is the second in terms of revenue generation in the job recruitment market in the country. The top two companies in this space, Vietnamworks and VON's KiemViec, account for 90 percent of the revenue in this industry.
In 2012, VON sold one of its other sites, Yume, to Nhom Mua, Vietnam's once-leading daily deals site. The other online property, Tim Nhanh, is not part of today's acquisition and will be split off, leaving VON's principal investor, DFJVinaCapital, looking for another buyer for that site.
CareerBuilder Vietnam
Paul Hung Nguyen, CEO of KiemViec and HRVietnam, said in today's announcement:
CareerBuilder will help us provide the best recruitment solutions to our clients and users. Like CareerBuilder, KiemViec.com is more than just a job portal and we look forward to continue to help our clients find the right talent as well as our users find the right opportunity through new solutions and products.
KiemViec has over one million registered users and attracts over 400,000 unique visitors per month. In comparison, CareerBuilder has over one million jobs, and 24 million unique visitors. The acquisition will also add the 'CareerBuilder Vietnam' branding on the CareerBuilder.vn domain, which will redirect to KiemViec. International recruiters will now have access to CVs and job applications from Vietnam. The company also plans to open an office in Hanoi in the near future.
With Vietnam's recent poor economic performance, unemployed folks will be increasingly looking toward jobs sites to hook them up with the jobs they need to support their family and life.
CareerBuilder's entrance to the Vietnam market will certainly be a concern for VietnamWorks and Anphabe, who are both in the job search business in Vietnam.
Asia plans
Worldwide, CareerBuilder operates in 22 markets. In Asia, CareerBuilder is already present in acquisitions and partnerships in China, Hong Kong, Singapore, Indonesia, South Korea, and India. CareerBuilder has emphasized its interest in expanding in Asia and Hunter Arnold, president of CareerBuilder Asia Pacific, who spent the last four years traveling around Asia, is optimistic about the Vietnamese market's education level and hungry workforce.
By 2015, CareerBuilder plans to enter all the major markets in Asia, I assume that includes the big Southeast Asian markets like Thailand, Malaysia, and the Philippines, as well as Asian tigers like Japan and Taiwan.