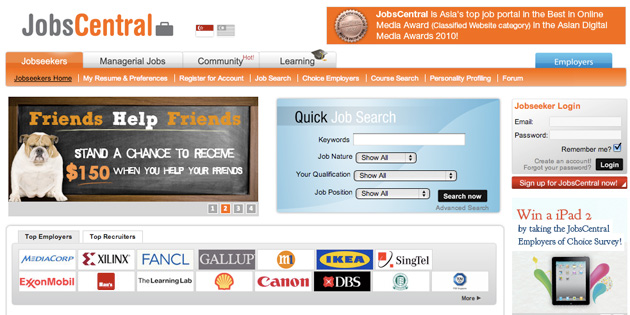 Update: From a spokeswoman from JobsCentral –
"The founders are CEO Lim Der Shing (35 years old), Deputy CEO Huang Shao-Ning (35), COO Michelle Lim (39) and CTO Eric Koh (36). Our immediate plans are to continue to execute upon our growth strategy in Singapore and Malaysia for all our products and services. Basically, it's business as usual for us while we work out with CareerBuilder the optimal way to integrate our processes and leverage upon their considerable product depth, and global business and technology resources."
I have been hearing rumors lately and today it has finally become official: Singapore based JobsCentral Group is acquired by U.S CareerBuilder. The acquisition amount is kept confidential, though. In Singapore we don't really have much of such acquisitions. Of course, exceptions to Darius Cheung's tenCube (acquired by McAfee) and Hardwarezone (by SPH). It is another victory for the Internet-based entrepreneurs community in Singapore.
The JobsCentral Group is one of the largest career media players in Singapore with its flagship JobsCentral.com.sg job portal that has over 800,000 registered jobseekers. The group also owns BrightSparks, Singapore's largest scholarship and education platform for pre-tertiary students, as well as a fast-growing presence in Malaysia with JobsCentral.com.my
With the acquisition of the JobsCentral Group, CareerBuilder now operates in 21 countries worldwide, including the U.S., Europe, Canada and Asia.
"We're very pleased to join the CareerBuilder family, which has a deep and broad suit of services and vast distribution network that will help us provide the best recruitment solutions to our clients and users," said Mr Lim Der Shing, CEO of JobsCentral Group in a statement. "Like CareerBuilder, JobsCentral is more than just a job portal, and we look forward to growing our business in the region with this partnership."
"Singapore has a prosperous economy, pervasive Internet use and a very low unemployment rate," said Matt Ferguson, CEO of CareerBuilder. "It's an ideal market for the online recruitment business and our new partner JobsCentral has an impressive track record. Combining CareerBuilder's global resources with JobsCentral's expertise in the Southeast Asia recruitment space will bring an even greater level of service to Singapore's employers and job seekers."
Apart from parties and champagne, I wonder what's next for the four founders at JobsCentral. Stay tuned as we dig further. For now, happy hours for the team at JobsCentral Group.