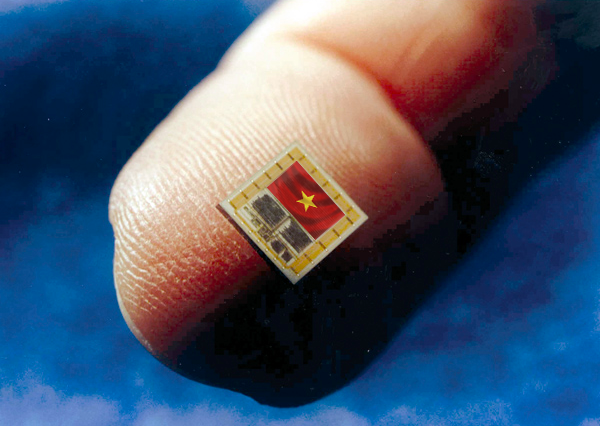 In Silicon Valley, techcooperation is everywhere. Hardware firms, software companies, and startups of all sizes work with each other to build products and services, APIs are shared and built on top of each other. Granted, there's also conflict – like with Twitter locking Instagram out of embedded images – but the environment is still one that encourages collaborative innovation. Headquarter doors are arms length apart. Intel is just miles away from Apple, Google, and Facebook.
That's not the case in Vietnam. The technology industry is split in three: electronics manufacturing, outsourcing, and the domestic startup market. Vastly different industries each deeply isolated.
But each industry is huge. Electronics exports in Vietnam are now worth over US$16 billion. The outsourcing industry in 2007, by some estimates, brought in well over $180 million in revenue and possibly reached $3 billion in 2012 (I'll get deeper into outsourcing numbers below). And VNG, one of the anchors of the domestic tech and startup industry in Vietnam, pulled in $90 million in revenue last year alone. Trouble is, there's no desire for the three entities to work together.
The two biggest tech industries in Vietnam
Frankly, the electronics and software outsourcing industries are ones that exist because they can squeeze higher value out of lower margins. In electronics manufacturing, companies like Samsung and Intel pump in millions of dollars to build factories and train workers. The management is top-down and the revenues are high. Although it allows Vietnam to partake in high level electronics production, it will take at least another three to five years before a Vietnamese company can take on the level of scale of the foreign firms. Therefore, they may remain isolated for another decade here. They're plants, not headquarters based in a campus.
With software outsourcing, it's a fast growing industry. The software and IT service industry in Vietnam, in total, pulled in $2.3 billion in revenue in 2011. And if the 25 to 35 percent growth rate is solid, it may have pushed into $3 billion last year. By some estimates, the outsourcing share of this number could be at least a quarter or half of this revenue.
Software outsourcing is especially appealing to software engineers who are graduating from Vietnam's engineering schools. It's higher pay – excellent engineers sometimes expect up to $3,000 or more per month – and they get to work on deeper technical problems from companies hailing from places like the US and Japan. For a family-conscious engineer, this is the way to go: big problems, status and money.
Tech startups, a nascent frontier that outsourcing needs to mentor
Software startups, on the other hand, are small by comparison. Although VNG has posted $90 million in sales revenue last year, it's one of the only big stars that is successfully competing in the domestic consumer space. The bulk of this revenue is likely still in gaming, an area that is still hot and VNG's core competency. Gaming is an industry that new, smaller studios such as Like.vn and Colorbox have just started getting into. E-commerce is still young and largely unprofitable, with Rocket Internet's Zalora and Lazada taking the majority of market share and still spending like crazy.
Startups in Vietnam are still a relatively new concept, and they've arguably only been around for the last five to seven years. In my personal database of startups I've recorded about 250 currently running startups in fields from education to mobile games to social media. Until now, the domestic market was so unprofitable that it made way more sense to go into outsourcing, where you can get more bang for your buck. But the shift is coming this year and next year, as the smartphone market awakens and the domestic market becomes more accustomed to spending on things like software games, products, and services. Things are heating up.
This is why I think it will be really important for outsourcing companies to start getting in bed with startups. Currently, the startup community lacks governmental support, money, technical skills, product management, and experience. Things the outsourcing industry has a lot of. As Vietnam's domestic market accelerates, growth will be exponential, and it's no wonder that foreign messaging apps and e-commerce startups are jumping into the market last year and this year. So if the outsourcing industries don't start getting involved domestically, it will be a huge missed opportunity. I don't know how this will manifest: in networks, in workshops, in government initiatives, or what; I just know it needs to happen. The teenage startups need their uncle outsourcers to lend them a hand.