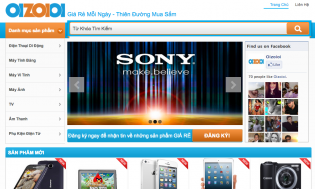 With the over 30 e-commerce competitors in Vietnam that I wrote about last month, from daily deals to vertical lingerie sites, it's hard to get a hold on where the best prices are. That's where Oi Zoi Oi (meaning "Oh My God! Oh My!" in Vietnamese) comes in. The site aggregates products and prices from across a handful of Vietnam's leading e-commerce sites and puts them all in one place. It's going to be the Pricegrabber of Vietnam.
The product search site, which launched last month, already gets 2,000 weekly visits and has over 5,000 products listed, mainly electronics. It hosts seven online retailers including Nguyen Kim, Lazada, and The Gioi Gi Dong. So far, most of the traffic on Oi Zoi Oi is going to Lazada.
But in the future, Oi Zoi Oi is also looking to expand across Southeast Asia once it has grown substantially in Vietnam.
The team, which consists of two co-founders and two students, plans to expand this year by two to three sites per week with a streamlined software framework.
The team is trying to fill a gap they perceive in the Vietnamese e-commerce space, that most sites are not data-driven. With everybody hungry to get as many products out as they can and big data being a relatively new concept, this makes sense. Most of the e-commerce sites in Vietnam are focused heavily on logistics and building trust with customers, so data is an afterthought.
I think Oi Zoi Oi makes a lot of sense in Vietnam, where there are just way too many e-commerce sites. It's a big waste of time to jump from one to the next just to check prices. It makes way more sense for me to go to one place to compare prices and then pay at the best one.
Problem is, it adds another step for the consumer to click through, so I'm not sure how much traction it will gain. But as my friends would say, don't underestimate the magnetic quality of a good deal.