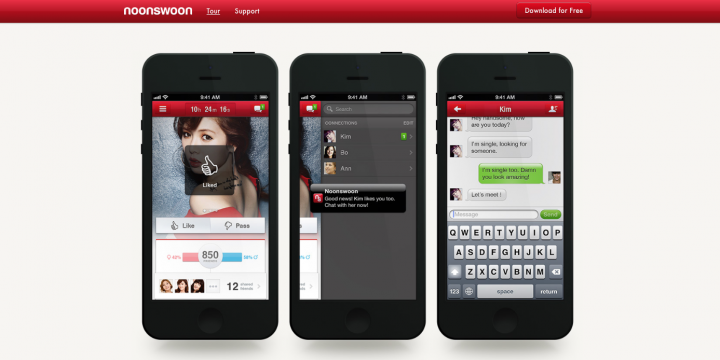 "All the single ladies (and gents), now put your hands up!" Alright, not to go too crazy with Beyonce's song but if you're single and in Thailand, Noonswoon is here to help!
Noonswoon, an online dating app, aims to introduce singles to at least one match a day – at noon, to be precise, hence the name. But this app is different from other dating apps, claims Mickey Asavanant, the startup's co-founder.
How? Instead of introducing singles to other singles based on GPS locations on their phones – like China's Momo – Noonswoon establishes a private connection between a friend of a friend. Basically, the app introduces you to your Facebook (the only platform the app connects to as of right now) friends' friends if they also use the same app. So you don't meet strangers, and you actually have a mutual friend with that person with whom you might date.
Certainly, meeting a date through Facebook friends is not a new idea. First there was the controversial Bang With Friends from the US, and then imitators like TristUp from Indonesia and PairBuddy from India. However, considering the number of single Thai people who gather in front of the Trimurti, the god of love, shrine in front of Central World in Bangkok every Thursday night at 9.30 PM sharp, offering roses and praying for a perfect match, I definitely think Noonswoon has a great chance in Thailand.
A sense of belonging
Noonswoon started back in December 2012 and launched in early April this year. With a development team of just three, and considering the company relies purely on word-of-mouth for marketing, the app actually has an impressive number of registered users – 25,000 so far.
Mickey Asavanant tells me:
We believe that the sense of belonging is important. We actually want to create a real relationship. That's why we try to imitate the real world activities – people know each other through friends. Privacy is our main priority and we don't believe in just matching people just because they are in the same area.
He also added that, since launching a few months ago, there are at least 1,500 connections who have started chatting online and continue to meet in real life.
Peter Panas, another co-founder, admitted that one of the biggest challenges for a startup in the Southeast Asia market is funding. He explained:
We're fundraising right now and are looking for few other investors to close the round. The goal is to get $500,000. Hopefully, we can get the expected funding by the next few months.
When asked about the goal that the two co-founders want to see from Noonswoon's progress, Mickey says he wants it to be the number one dating platform in Asia. Along with raising capital, the team is planning to expand the platform to Singapore and then Australia soon.
Noonswoon is now available on iPhone only but the company is working on developing the app for Android, and hopefully it will be out in a month.
(Editing by Steven Millward and Charlie Custer)