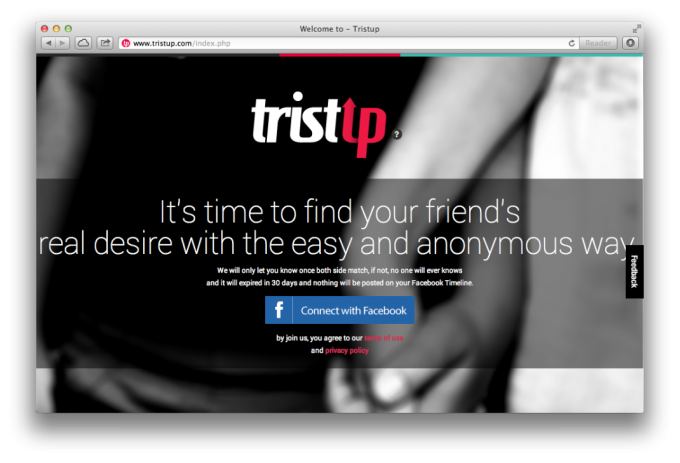 Bang With Friends, a social network for people to hook up with their Facebook friends, has gained both notoriety and popularity this year. It's inevitable that format will be reworked – and in this case, Indonesian developer Yudhi Mandey has come up with TristUp.
TristUp is a social network for people to "level up" their friendship. Just like Bang With Friends, after logging in using your Facebook account, you will get to choose which friends you'd secretly like to hook up with. To get a match, both parties need to choose "date or shag" (yes, those are the actual options). If not, they will be notified that there's a "misfire" and there are no possible connections.
The friend selection screen is similar to Bang With Friends' Pinterest-like layout. Too bad the TristUp friend selection is simply arranged alphabetically as I think randomized is better. You can filter the selection based on some preferences like religion and interests. But it didn't work when I tried. Maybe that's because none of my buddies have signed up for TristUp.
Going viral in Indonesia and Australia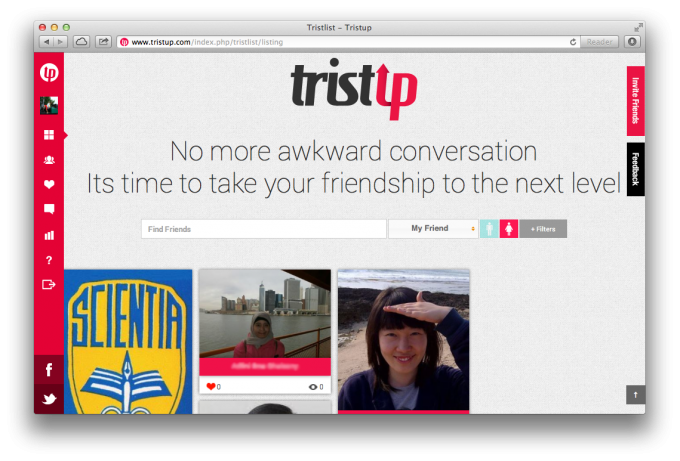 Does TristUp have what it takes to go viral just like its inspiration site? It seems like it so far. Launched just last month, Yudhi says it has 500 registered users (pretty much among friends and friends of friends) in its first three days of operation. But after one and a half weeks, the site reached almost 3,000 users with zero marketing. While the team's primary targets are Indonesian, almost 70 percent of TristUp's registered users come from Australia – more specifically from three colleges in Queensland and some from Brisbane.
Yudhi is still confident that TristUp is suitable for more conservative Indonesians. He did a bit of research that found most Indonesian singles aged 16 to 28 are too shy to reveal their intention to get out of the so-called friendzone. He believes that TristUp can help them fill that need anonymously, and will start pushing Indonesian targeted ads within the month. He also added that anything that smells of sex and controversy can sell in Indonesia.
More dating features
To set the startup apart from Bang With Friends, Yudhi will add a video chat speed dating feature to TristUp in the next three months. The new TristUp feature will choose 10 women and guys based on things like location, interests, and age. Users will then have a limited time to introduce themselves and chat with their potential mates.
During that timeline, TristUp will also add a chat-like platform and smartphone apps, which have app-specific features like looking for a date nearby. At the end of the year, TristUp will also hold an offline meetup in Bali. Ambitiously, Yudhi hopes to have one million users by the end of this year.
Monetizing on the dancefloor
I don't think Bang With Friends is monetizing its product yet. How would the Indonesian version be different? By using a freemium model. First will be a premium user category on TristUp. Free users will get limited feature usage, like a maximum number of video chat speed dating instances per month. Yudhi plans to charge users $2 a month. The app's "find the nearest user" feature will also be premium. Users need to buy TristUp's tokens to access the location-based flirting.
Interestingly, the team is also in talks with nightclubs in Jakarta, Bandung, and Bali for possible cooperation. The idea is to use TristUp's apps as free entry to the club for premium subscribers. Using TristUp, users can detect other users who are inside that same club and maybe use the app to get a dancefloor partner. So far, two clubs have jumped onboard.
Yudhi is also in talks with local VCs to get the startup energized further in its attempt to get one million users by the end of this year. Before TristUp, Yudhi previously built babycare information site BibTalk and medical info startup TipsDokter.
So what do you think, folks? Do you think TristUp is one to look out for in the coming years?
See more: 6 dating apps from Asia