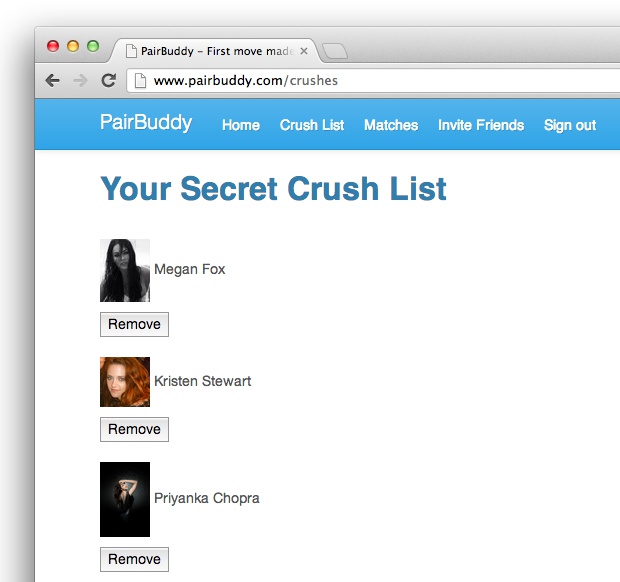 It's Valentine's Day, so those without an object of affection might be looking for a new way to find a date. That's why an Indian startup is today launching PairBuddy. It's a lot like the more crudely-named Facebook dating tool Bang With Friends that's got so much hype over the past few weeks.
PairBuddy focuses more on outing a secret crush than getting people hooked up immediately. If your Facebook friends also use the app and someone has identified you as a crush, then the prospective pair will be notified (pictured below). If there's no mutual crush, the secret will remain inside PairBuddy and will be taken within your soul to the grave.
PairBuddy was built by Nirav Shah and a small team in under 48 hours. Nirav tells us that it has had a good response after a quiet soft launch, and a mobile app version is in the works. Though created in Mumbai, India, this little tool for finding a Facebook buddy that has the hots for you can be used worldwide. Some other new features, he explains, are being worked on too.
After a wave of apps for flirting with strangers – such as the success of China's Momo, which went global at the end of last year – there now appears to be a series of tools for romantically connecting people who already know each other. Surely it's only a matter of time before versions appear for Twitter or Sina Weibo.