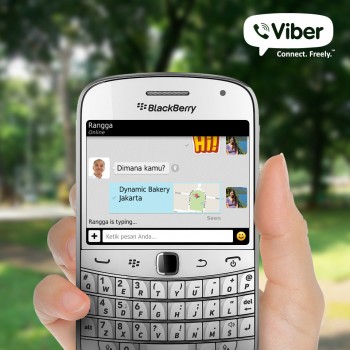 Israel-made messaging app Viber is leaping into Indonesia today as it's now available in the Indonesian language on iOS, Android, Windows Phone, and BlackBerry. Interestingly, while the former three versions of the Viber app also support other Asian languages, the only Asian language that the Viber BlackBerry app supports is Indonesian.
CEO Talmon Marco says that BlackBerry is Viber's third biggest OS user-base (after Android and iOS). Naturally, as Indonesia holds 15 million BlackBerry users, the country is an important market for Viber.
Viber is looking at tough competition in Indonesia's Blackberry messaging app space as KakaoTalk has spent quite a lot of money advertising its app there. Earlier this month, KakaoTalk reinforced its commitment to tapping into Indonesia's BlackBerry users by rolling out a free calling feature for the OS. Of course, Viber offers the same free call feature for BlackBerry too.
Viber also supports the Japanese language, Korean, Malay, Thai, Vietnamese, Hindi, Tagalog, and Chinese (simplified and traditional). The team plans to launch its sticker market alongside other releases in the coming weeks.
(Editing by Steven Millward)