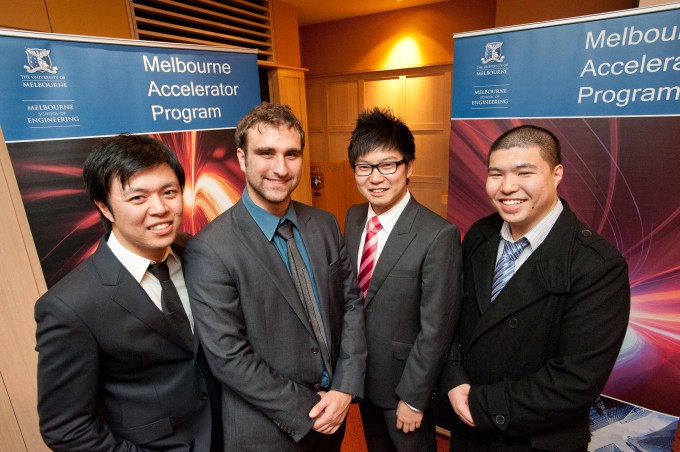 Following the success of its first ever batch of startups, Melbourne Accelerator Program (MAP) has opened applications for its 2013 intake.
A total of six startups will be shortlisted to participate in this intake. They will be provided AUD$20,000 (US$21,000) and an office space, plus mentoring throughout the entire program which will be running from July to November this year.
On the kind of startups the accelerator is looking out for, MAP manager Rohan Workman tells us:
We are looking out for great teams that have demonstrated progress and we are not restricting ourselves to any particular field or industry. We expect to receive a number of digital startup applications, but also quite a few technology or IP-focused ones too.
As mentioned in our previous article, it has had an encouraging 2012, with two out of its four startups, Venuemob (team pictured above) and 121cast, raising a total of AUD$700,000 (US$730,000) seed investment from Adventure Capital and the Optus Innov8 Seed Program, along with other angel investors.
Rohan also tells us that with the funding raised, Venuemob has since expanded its team from just three to the current 12, and is aggressively establishing its services in other Australian cities. 121cast will also be launching its flagship product in the coming months, so we will keep our eyes peeled for these two promising startups in Australia.
For more information on the program, please visit the MAP website here.