Australia's first and only university-run startup accelerator, Melbourne Accelerator Program (MAP), has officially graduated its startups. Two out of four startups have successfully raised a total of AUD$700,000 (US$740,000), with the third startup, DC Hybrid Power System, receiving the prestigious Australian Student Energy Awards for its advanced renewable energy technology.
Similar to US-based Stanford's StartX program, MAP invests around AUD$20,000 (US$21,000) in each startup without taking any equity stake, on top of providing mentoring and office space for them. The program first started in June 2012 and lasted for six months. As stated in our earlier report, Venuemob (team pictured top) and 121cast have successfully raised AUD$450,000 (US$475,000) and AUD$250,000 (US$264,000) respectively from SingTel Innov8, with the latter having a co-investment from Adventure Capital too.
This certainly helps to promote and encourage a startup culture in Australia. David Wei, CEO of Venuemob explains:
In Australia, there is basically no startup culture at university level. The initiative by The University of Melbourne will play a tremendous part in building the startup scene among young students in Australia.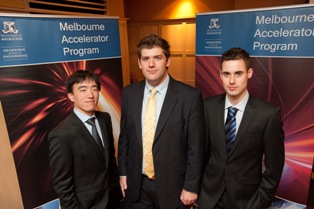 Edward Hooper, former Stanford student and co-founder at 121cast (team pictured right), attributes part of the team's success to MAP:
In the Melbourne Accelerator Program, we've got amazing support from various alumni. We hope more educational institutions realise that they have so much capacity to develop the next generation of business leaders.
Surely, it also validates Stanford's StartX model. The Dean of The University of Melbourne's School of Engineering, Professor Iven Mareels, says that it empowers students at university level, which helps support and nurture aspiring entrepreneurs in Australia.
The next round of applications for MAP will open mid March. For more information regarding the program, you can visit the MAP website here.