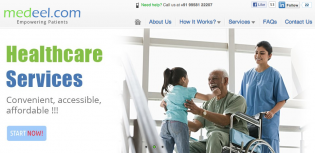 When you get sick, all you want is to get better. But the reality, in India and almost anywhere else, is that different hospitals offer different services and charge different prices, and the service you get at one hospital might end up being quite different from what you'd get at a different hospital, even if you have the same symptoms. Indian startup Medeel aims to solve this problem by allowing patients to submit their medical records to multiple hospitals and solicit bids for their treatment options online. In other words, you submit your medical records, and then without ever leaving home, you can sit back and wait for hospitals to come to you with treatment packages.
The advantages for patients are pretty obvious; the site basically allows you to start a public bidding process over your own healthcare, which (assuming you do your homework) should help you find the best care at the lowest price. Medeel claims the service is also beneficial for hospitals, giving them access to more patients and potentially helping them attract non-local patients who otherwise wouldn't have considered traveling to their hospital. Clearly, at least a few hospitals agree, as six hospital partners are listed on the site and it claims there are also "many more" unlisted. When I asked founder Mohit Bahri for a specific number, he said Medeel had signed up 16 hospitals and was "in talks with another 15 plus," mostly in the Delhi region.
Obviously, the process isn't instantaneous since the hospitals have to review each patient's medical records manually, and getting a response can take 2-3 days, so Medeel definitely isn't a good option if you've got any urgent medical issue. But for patients with the luxury of time, Medeel could be a good way to review a number of options without having to trudge around to each hospital in person to explain the situation and submit your medical records.
The site is clean and clearly laid out, and it's pretty easy to figure out what's going on. With less than 100 Facebook likes and only one testimonial so far, it's clear the site hasn't attracted a ton of attention from patients yet, but Bahri says the company has already helped two patients receive treatment and has served many others. The startup is still very young, launched just a couple weeks ago, and it is already receiving inquiries from international patients, so those numbers seem destined to grow ("We understand that estbalishing a new concept like this will take time in India," Bahri says). Given the creative approach and the fact that the startup is working to solve a real problem, we wouldn't want to bet against Medeel.