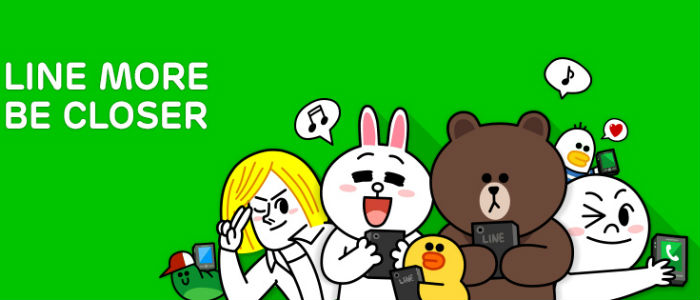 When Japanese messaging app Line reveals its quarterly revenues, we know what to expect – growth, growth, growth. The quarter ending in June 2014 is no exception, as today the company revealed revenues for the app hit JPY 18.2 billion (about US$177 million), up 25 percent from the previous quarter and 146 percent year-on-year.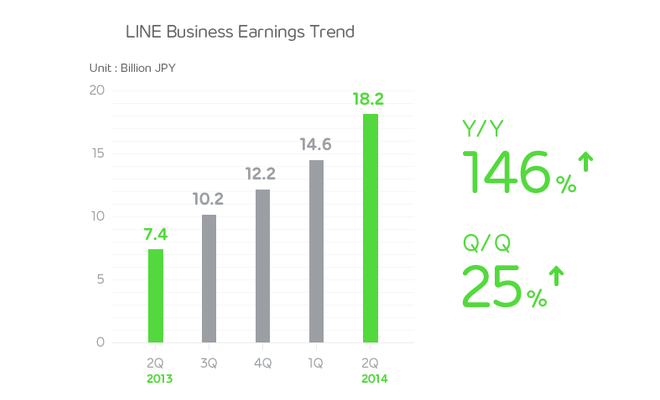 As usual, the company hasn't provided details regarding profits or losses, so there's no telling how the growth may or may not compensate for the ad dollars the company is throwing in markets all over the world. It claims that most of its growth continues to come from Latin America and Southeast Asia, but doesn't reveal any updates regarding registered user or monthly active user counts. Last time we checked, the company had 470 million registered users worldwide, with 25 million in Japan, 27 million in Thailand, 20 million in Indonesia, and 17 million in Taiwan.
Line has been quite busy over the past several months promoting new games (which serve as the app's cash cow) and inking new partnerships. It's run TV advertisements for its Line Cookie Run and Line Rangers gaming titles in Japan, Taiwan, and Thailand. It continued to hold pop up stores all over the world. It completed a deal with Salesforce.com to help bolster its relationships with retailers. It launched a DIY sticker store, which brought in US$1.5 million in sales during its first month. It opened up a flash sales channel in Taiwan, and released an ecommerce app in for Thai users. It's even eyed growth in the US, where most consumers still cling to old fashioned SMS for messaging, by partnering with radio conglomerate Clear Channel.
These aggressive promotions ramp up just as the company prepares for an upcoming IPO, either on New York or Tokyo stock exchanges (or both). Though the company hasn't yet released a prospectus, its public offering ought to attract the attention of investors and the consumer tech industry because it will finally assign a market value to mobile messaging as a global service. Facebook's purchase of WhatsApp for US$19 billion and Rakuten's purchase of Viber for US$900 million confirmed that large internet conglomerates will eye messaging apps for their reach and stickiness. Moreover, at the time of those acquisitions, neither of those apps had generated any significant revenue, despite WhatsApp's count of 450 million MAUs and Viber's count of 100 million MAUs.
Line has monster revenues for sure, and that might reduce the importance of its MAU count if it's indeed lower than Line would like us to believe. Moreover, it's far more ambitious than WhatsApp or Viber, neither of which made aggressive forays into stickers, games, ads, or ecommerce. For what it's worth, Bloomberg cited sources claiming Line's filing will value it at JPY1 trillion (about US$9.9 billion). That's a far cry from what Facebook shelled out for WhatsApp, but places it at the halfway point between WhatsApp and Viber when one considers monthly active users. When one considers revenues, you'd think that would push Line a bit higher, but the costs of its ceaseless marketing might drive that back down. Comparisons aside, Line's eventual listing will likely re-affirm the value of a messenger that's deeply entrenched in specific markets, and add some much-desired transparency into where money comes and goes for chat apps.