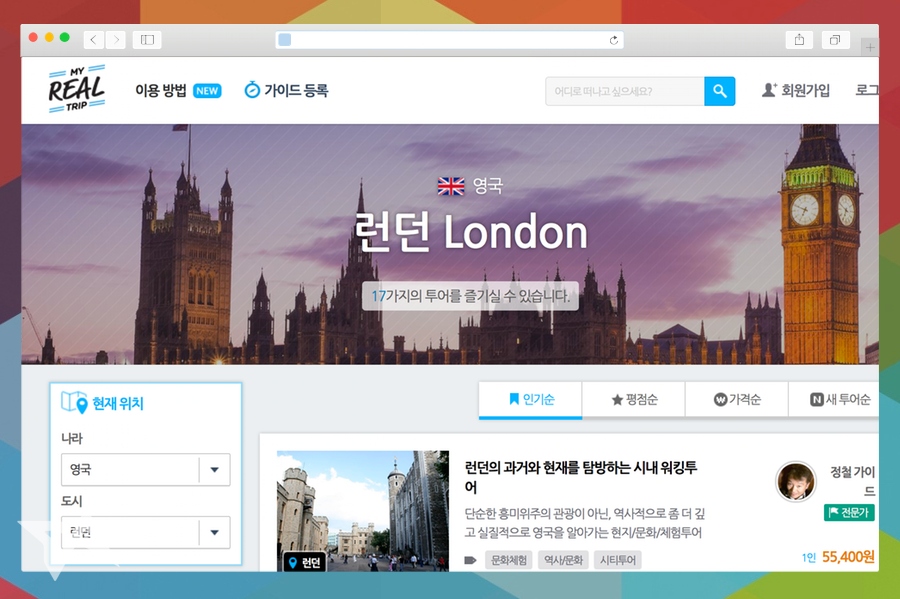 MyRealTrip, a Korea-based startup that provides the country's overseas travelers with personalized guided tours in Korean, today announced its third round of funding. SmileGate Investment led the round, contributing 70 percent of the funding, with Capstone Partners joining in. This series A round has provided an injection of almost US$1 million to help the company build mobile apps and expand to include Chinese travelers visiting South Korea.
MyRealTrip is effectively an open, crowdsourced marketplace for local guides and travelers that offers authentic, customized guide services. Traditional tours are often a herd-like experience devoid of a personal touch and designed to lure travelers into trips that are geared towards milking money out of them – with guides complicit in taking people to certain shops or restaurants in exchange for kickbacks from those businesses. These package tours often miss the real experience of a travel destination and have lost touch with the more bespoke needs of modern, savvy travelers.
To counteract all that, MyRealTrip invites locals with a profound knowledge of their region or local area to upload their own recommended tour itineraries. Travelers can skim through a diverse range of authentic itineraries, directly contact local guides through the newly added instant messaging service, and customize the trip according to their needs. These local guides should not have a commercial interest in visiting certain locations or businesses.
The startup previously received angel funding from one of Korea's most reputable angel investment groups, Primer, and later secured an additional seed round of US$350,000 from BonAngels and a number of other individuals.
MyRealTrip takes a 20 percent commission on fees paid to local guides and is building an online payment facility which will allow greater security for both parties.
See: Last-minute hotel booking app HotelQuickly is no longer so last minute
Up until now, the entire service has been built in Korean and connects domestic travelers to overseas guides who speak Korean. But the team will now be concentrating on building a Chinese language version that aims to capitalize on the huge influx of Chinese visitors to the country. Minseo Baek, the co-founder of MyRealTrip, says that localization will be critical to their success. "We suppose that Chinese visitors have very different needs from our Korean travelers. For instance, they might be more interested in exclusive, customized tours than Koreans are, or they might be more interested in ticket bookings and a car/driver rental service than in guided tours," she explains.
Since I last spoke to Minseo last summer, the startup has grown from a team of two to now employing seven additional staff and two interns, covering development, design, and marketing. Its sales numbers have increased more than eight-fold since last year, with weekly visits this May over five times the figure of 5,000 from a year earlier. Reservations have also increased from around 50 per week last summer to around 250 at present.
A key focus now is to use the new investment to build mobile apps for Android and iOS, which are both scheduled for release before the end of the year.
As the company grows, Minseo has noticed that increasingly there has been a call from travelers for more professional guides and so the company has hired a marketing manager who has been tasked with growing the pool of professional guides, as well as focusing on continually increasing booking figures. This is being achieved through in-trend guerilla marketing tactics, as well as through forming strategic partnerships with established travel brands and local celebrities.
The company is also beginning to use its user reviews to gain more intelligent feedback for service development. Currently almost 50 percent of users leave reviews, which have become a rich source of data for the company, as well as providing user-generated marketing content.
---
This article by Nathan Millard is republished with permission from BeSUCCESS.