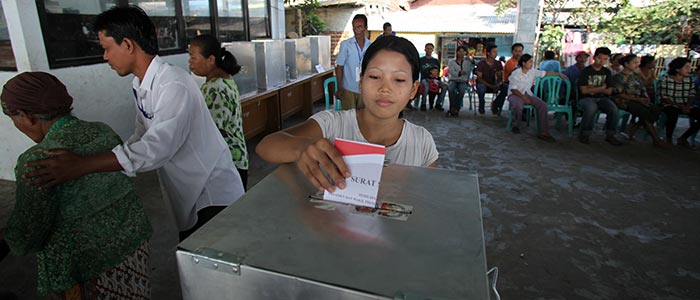 Indonesia's general election last week still hasn't provided a winner as both presidential candidates claim to have the mandate. That's where Indonesia's netizens come in. Because of the recent 'open government' initiative in Indonesia, the Elections General Commission (KPU) is sharing all election-related data on the internet – including documents related to the vote tally. That has inspired a number of crowdsourced vote counts.
Out of all the crowdsourced initiatives by Indonesia's citizens, this particular one looks to be the most professional yet: the team is called Kawal Pemilu (which means "guard the election" in Indonesian).
Kawal Pemilu is now a 700-person team of volunteers who are counting the vote tally documents manually and releasing the count result on its website in real-time. Well, you can see the updated vote result every 10 minutes. In addition, people can also check the voting result from each polling station and cross-check the documents within the site.
Here are five more things that you need to know about the team:
1. Founded by Indonesians living overseas
Kawal Pemilu is quite secretive when revealing who the founders are. So far they've only revealed one of the three-man team: Ainun Najib, a Nanyang Technological University alumnus who is now working in Singapore. He says that the other two initiators are programmers working in big tech companies in Silicon Valley. All three claim to have created the website and the vote-counting system in just two days.
2. It claims to be independent
Najib says all 700 volunteers are working for free, with no backers, and consist of supporters of both presidential candidates.
Kawal Pemilu explains that they intentionally do not reveal who the founders or the volunteers are – it's a precaution so that these people remain protected from things like hacking attempts, intimidation, or bribery.
How can citizens be sure that Kawal Pemilu is indeed independent? The team says by "crosschecking both KPU's data and their own data".
See: Indonesian voters are crowdsourcing ballot counts to protect against election fraud
3. Over 460,000 documents counted so far
The crowd-count team has checked more than 460,000 documents available on the KPU website. The team claims that they can collectively clear documents from five polling stations every second.
So far, a total of 485,000 vote-related documents are available on the KPU website.
4. Hackers beware
On Wednesday afternoon, the Kawal Pemilu website was attacked by "hundreds of hackers," according to Najib. Although the site went down for a while, the core five-man team was able to repel all the attacks and brought the website back up on that same day.
According to this blog post, the team sent back a logic bomb to their attackers. Kawal Pemilu also lashed out at the fact that the hackers who claim to be representing "justice" were in fact disrupting the nation's democratic future with their hacking attempts.
5. A new way to fight for democracy
Indonesia is in a new era where citizens can play a crucial part in ensuring the wellbeing of its young democracy. KPU is doing great by embracing the open government initiative, and Kawal Pemilu wants to help monitor the government by doing the count themselves – in a way that's transparent.
---
Although a crisis is looming ahead of the official July 22 ruling on who's the election winner – which might be contested by the candidates, leading to a constitutional emergency – so far things are looking good for Indonesia's democracy. Besides Kawal Pemilu, other crowdsourcing initiatives monitoring the closely-fought election includes Kawal Suara and Real Count, as well as a platform to collect suspicious vote tally documents in the form of C1 Yang Aneh.
Photo from Flickr user Department of Foreign Affairs and Trade.