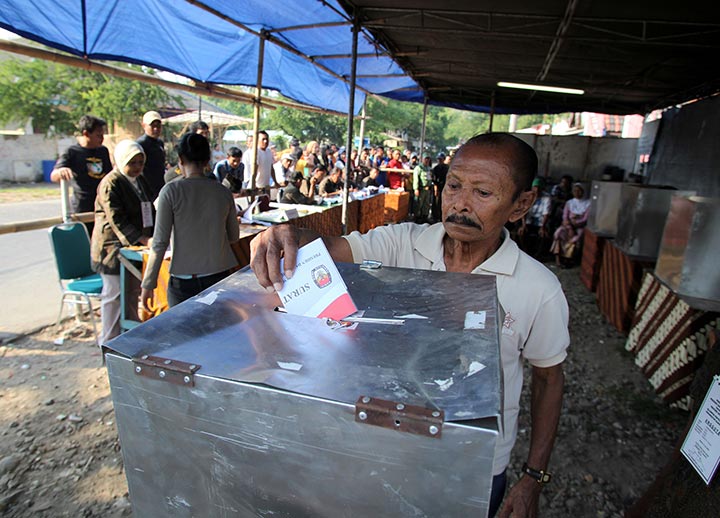 This is a crucial time for Indonesia's democracy. It is the first time ever that the country has seen different quick count results in its presidential election. While the score is tight, rumors of foul play from both sides are starting to emerge. But now, thanks to crowdsourcing, Indonesians can help monitor the real vote count.
In a sense, Kawal Suara (which means "guard the voice") might be Indonesia's very first crowdsourcing platform to help count votes. The General Elections Commissions' (KPU's) website already lets citizens download the polling results from more than 486,000 voting booths, but it doesn't really provide digestable information about how many total votes each candidate received by district. Citizens still need to manually count them after downloading the documents to help monitor the real count process. That's very inefficient.
As a young democratic country, there have been numerous incidents where candidates cheated their way into government office, either by buying votes or via vote manipulation in the counting process. One worrying trend that Indonesians have found in this presidential election is that the election officers can submit incorrect information inside the polling result documents. Some documents have incorrect tally numbers, for example, while some others are mixed up with the documents from other districts.
Kawal Suara lets Indonesian users manually input counting results by reading random documents one by one (as seen above). Each voting booth result can receive multiple data entries from different users. If there are different data entries for the same document, the system uses the one with the highest frequency. Kawal Suara assumes honest people tend to input the same number of total votes tallied, while others might report random or disproportionate figures.
Users can tick a box if the number of tallies in the document is incorrect and provide more information in the comment box of each document. Each IP address can only input one document from each voting booth. The numbers are then processed internally by Kawal Suara.
See: Facebook interactions more than double tweets during Indonesian presidential elections
Social experiment
"If KPU opened its data to the public, then the crowdsourcing system like this is not needed." founder Reza Lesmana adds. "Ideally besides just giving access to data, KPU could also provide online reporting system in case there's a data entry error. And also show the follow-up steps that KPU has done."
Lesmana first considered using optical character recognition (OCR) to process the scanned document's data, but there were too many technical constraints, and it would also take too much time to develop. The real count result will be announced on July 22nd.
Another reason behind the creation of Kawal Suara however, is more of a social experiment, according to Lesmana. "I personally want to know how accurate the counting result is with this crowdsourcing system [compared to the real counting result]." He admits that while his method is not 100 percent fool-proof, it could help become an early indicator of the real result.
Kawal Suara was developed entirely by Lesmana, who acquires users solely by word-of-mouth spread throughout social media and chatting apps. He first shared about the website on Saturday evening, and in just two days, the website has garnered 1,200 users who "crowdcounted" over 31,000 documents.
This is a great example of how much technology can play a part in the nation's future. And how many people are willing to safeguard that by voluntarily counting ballots all the way till the end.
Photo from Flickr user Department of Foreign Affairs and Trade