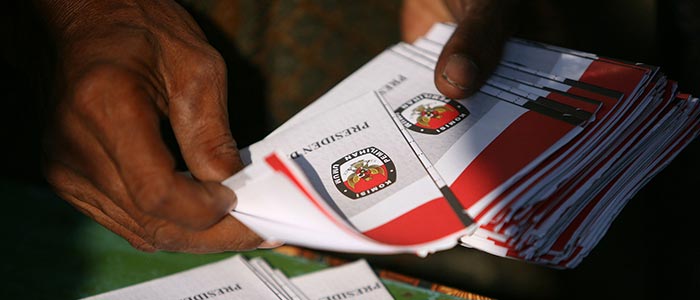 Indonesia's young democracy is on the verge of a crisis with two presidential candidates claiming victory after last week's general election. Both candidates have declared that they have received the people's mandate to lead the country, and the nation is gearing up towards July 22 when the General Elections Commissions (KPU) will be announcing the winner based on the official vote tally. But both candidates are likely going to challenge the count, possibly leading to a stalemate and a constitutional emergency. So the KPU has done something breathtaking in Indonesia: releasing the vote tally documents to the public.
Indonesians now can go to the KPU site and download all the scanned documents and count the votes themselves. This has sparked people to start up initiatives such as Kawal Suara, a site that crowdsources the count, and Kawal Pemilu, where a 700-man team of volunteers is counting the ballots in a "secret Facebook group" and publishing the count results in real-time on their website.
Other initiatives include a Tumblr site called C1 Yang Aneh, which collects ballot documents which have unusual data, like a wrong tally or, worse, documents with no numbers. Even the KPU recently suggested (PDF file) its members to check the website to help identify the documents. C1 Yang Aneh now has over 100 verified "weird" documents after 900 documents were flagged by crowdsourced helpers.
KPU has also prepared its Facebook account to receive reports of suspect voting documents that users discover. Some people have set up an open Google Docs spreadsheet to document the various weird ballot documents discovered, while others are building another crowdsourced platform for people to help the counting process.
Outgoing President Susilo Bambang Yudhoyono – who is not up for re-election after serving two terms – has also asked for citizens' help to safeguard the vote counting process.
Online attacks
Both Kawal Suara and Kawal Pemilu have been hit by online attacks that are trying to disrupt what they're working on. Reza Lesmana, the founder of Kawal Suara, told Rappler that "there were thousands of intentionally wrong data entries" submitted yesterday. Afterwards Lesmana told Tech in Asia that they also got a DDOS attack last night. He says that everything looks normal today and the team is countering the false entries by invalidating them in the system.
There was also a DDOS attack on Kawal Pemilu. Site administrator Ainun Najib told Tempo that the five-person team battled "hundreds of hackers" which they identified coming from within Indonesia. The Kawal Pemilu website went down for a few hours, but the team managed to get the site back up that same day. Both Kawal Suara and Kawal Pemilu have presidential candidate Joko Widodo as winning the election count so far.
See: Indonesian voters are crowdsourcing ballot counts to protect against election fraud
InfoPrabowo, a website affiliated with the other presidential candidate, Prabowo Subianto, shows the voting result based on its own interpretation of the tally. It says that Subianto has won the election. However, that site is now inaccessible for an unknown reason.
More turbulence ahead
These crowdsourced efforts from ordinary people show how much they care about safeguarding the country's future from election fraud. KPU has also shown its willingness to work with citizens to protect the democratic process.
However, both presidential candidates have reiterated their "commitment" to fight their way through to the State Palace regardless of what the KPU announces on July 22. We may see the losing candidate appealing to the Constitutional Court to overturn the decision, and that is where and when people can help provide evidence by putting up their own vote tally to determine who's the real winner.
(Photo from Flickr user Department of Foreign Affairs and Trade)