I remember well the frustration of Flappy Bird. And now it seems like that feeling has once again found its way into my heart via the Vietnam-developed mobile game Jump & Jump.
Jump & Jump is a simple arcade-style mobile game from M.D Studio that puts players in the shoes of a rabbit that has to run away from a wolf. The catch is: your only available escape route runs into a river.
This river is fraught with stepping stones and floating logs, which is great. Yay for escaping from becoming wolf dinner. What's not great is that it is also overloaded with broken logs, sleeping crocodiles, and grumpy turtles.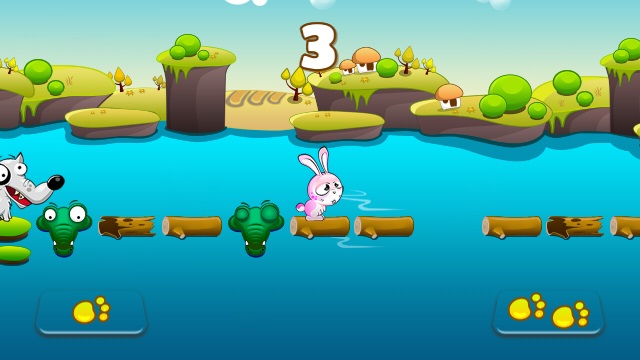 Jump & Jump utilizes just one game mechanic, and two on-screen buttons. One button is a single jump. The next button is a double jump. Each round's escape route is endless and randomly-generated. As the rabbit, you must plan your jumps with speed and accuracy.
Lingering too long on a crocodile or turtle gets you eaten. Pondering too slowly on a steady rock or log gets you eaten too, when the wolf catches up with you. Jumping onto a rotting log drops you immediately into the river. The game ends when you drown, or die.
(See: 10 reasons why the Vietnam-made game Flappy Bird is so ridiculously addictive)
The graphics in Jump & Jump are by no means retro, attractive, or even well-done, but their strange charm suits the game. The game has no sound save for that of the jumps, of the rabbit dying through drowning or by getting eviscerated, and of it saying "uh oh" whenever the game over screen pops.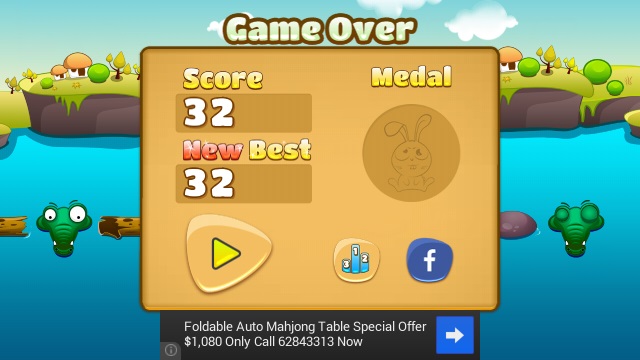 It's morbid, just like Flappy Bird. I will never forget the bird's deadpan face as it plummets to the floor. Like Flappy Bird, Jump & Jump calls to mind a familiar frustration at yourself. You know you could have done better, but for some reason, or perhaps because of the game's hellish timing and difficulty, you didn't. So you try again.
And again, and again. And before you know it, this stupid, stupid game has done the same thing that stupid, stupid Flappy Bird did. You need a new phone, because yours now has a cracked screen.
Jump & Jump will probably not be a Flappy Bird; I think the world has had enough of that. But it does say something about Vietnam: having learned through Flappy Bird that it can shake the world, it's trying its darndest to do so again.