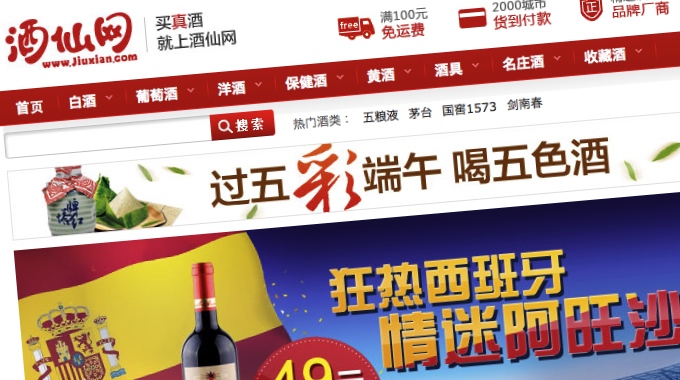 This calls for a drink! The Chinese e-commerce site Jiuxian.com, which specializes in selling wines and spirits, has cause to celebrate after wrapping up series C funding worth RMB 200 million (nearly $32 million). Jiuxian representatives have confirmed the funding news, but declined to identify all the investors involved save for the participation of Rich Land Capital.
Earlier this year, the company said it aims to hit 2 billion RMB (US$317 million) in revenue by the end of 2012. That'd be quite a leap up from iResearch's estimate of RMB 500 million in sales in 2011. But Jiuxian has expanded its storefronts for this year, and now has a virtual store on the nation's largest B2B2C e-commerce site, Tmall, as well as now being drafted in to run Dangdang's (NYSE:DANG) alcoholic beverages portal.
Jiuxian is close to its third-year anniversary; it previously secured $20 million for its first round in April 2011, then an undisclosed amount for its second in November of last year. It's one of many sites riding the luxury boom in China, selling items as pricey as a Remy Martin cognac for $3,300 per bottle.
We recently reported that Jiuxian executives went on a mission to France to connect with vineyards and make some direct partnerships.
[Source: Sina Tech – article in Chinese]