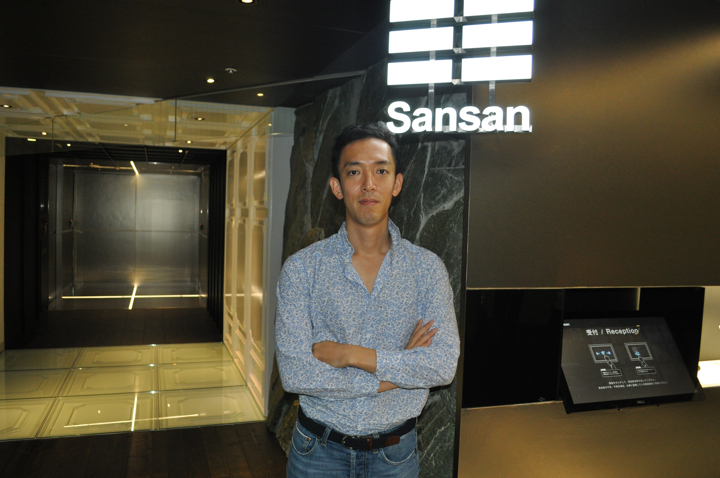 Thanks to the rise of social networks and smartphones, business cards don't quite hold the same cachet that they used to. In Western markets, some people refuse to carry more than one card to networking events (lest they appear desperate), while others proclaim that the age of the business card is flat-out over. For professionals across Asia, however, the humble business card remains a vital tool for introductions and a jumping-off point for future networking.
In Japan, where people often introduce their company name before their own ("I'm Company A's Sato," not, "I'm Sato with Company A") the business card is essential – there's even a specific way to present them, receive them, and store them. Writing on a business card or stuffing it in your pocket just moments after the exchange would be a major cultural faux pas.
As Chika Terada puts it, business cards act as "paper proof of a business transaction." Terada is the founder and CEO of Sansan, a freemium contact sharing service that transcribes business cards and stores them in the cloud. The Tokyo-based startup isn't attempting to replace the business card – it is simply bringing the 400-year-old paper rectangles up to speed with our digital world.
Eight years in the making
Prior to establishing Sansan in 2007, Terada worked at Mitsui & Co. – one of Japan's largest trading firms. Even before becoming a trader, Terada knew that he would eventually start his own company:
When I worked for Mitsui, I knew that the goal would be promotion to the executive level. When I imagined the future, that I would become the CEO of Mitsui, I thought, 'that position can be replaced by anybody.' I want to create something different, I want to change the world. That's the ultimate goal that I always have in mind, so it was a natural choice for me to found a startup after eight years there.
Terada's experience inside Japan's corporate machine made the problem with business cards clear.
"Everyone uses business cards, especially in Asian countries, and it's troublesome to deal with so many of them," he says. "Once you receive them, it becomes difficult to keep track. There was a problem and and an opportunity presented to us, so I decided to pick this theme. There are said to be 10 billion business cards exchanged a year, so it's a huge, huge business realm."
Overseas expansion
Terada's company offers two main contact sharing services: Sansan and Eight. Sansan is tailored for businesses while Eight was designed for individuals. For each, users simply download an app and take photos of the cards they receive. Sansan clients also have the option of renting scanners, for about US$100 a month, that can scan 30 two-sided cards per minute.
Sansan recently received US$14 million in series B funding, led by Silicon Valley-based investment firm DCM. The money will be spent partly on Sansan's US expansion. The service officially launched in the US market on May 29 – a move that might sound contradictory for a company that relies on the Asian attitude toward business cards. Terada explains why:
First, the US market is the biggest and their investment size – their corporate investment in systems – is five times bigger than in Japan. Secondly, they use business cards. The number they use might be smaller than what we use in Japan, but they still use them. The executives in the US market, they just let their assistant enter all of their business cards into their Blackberry or Exchange or whatever, so they are already managing business cards, in a sense. Third, I think US companies would like to share their business cards contacts with team members, but there is no way to achieve that. You can use Salesforce.com to manage opportunities and business, but you cannot manage all of the connections that your team has. Our business cloud could be the key to sharing those contacts.
Terada hopes to attract 100 paying corporate customers in the US within three months. If successful, the company will "go in deep" and he'd consider sending some of Sansan's Japanese staff there (the company is overseeing the US operation remotely). The CEO has even mulled the idea of relocating.
Eight, on the other hand, is skipping the US entirely and going straight into the rest of Asia later this year. Terada is convinced that, while Sansan is entering the US market without a worthy competitor, the mobile app would likely butt heads with domestic alternatives.
"On the individual side, there's a company called CardMunch that was acquired by Linkedin," he says (Linkedin will actually discontinue the CardMuch service in July, opting for a partnership with Evernote. The note-taking app's premium service offers business card scanning). "They've been providing a business card management application for business people, B2C, and they transcribe cards like us. Linkedin would be a large competitor for Eight. We see Asian countries as having the same business card culture. It's a bit different in the US. Eight is more familiar to the Asian market."
Because Eight is already able to accurately transcribe Japanese and English text, Terada is eyeing English-speaking countries for its initial Asian expansion:
As our service involves transcription, we need to localize not only interfaces but the transcription process itself. It's not that easy to scale out to countries with different languages, so our first target should be English-speaking countries and regions – India, Singapore, maybe Hong Kong. I remember all the business cards I got in Indonesia were in English, so we may approach the Indonesian market, too. Opportunity-wise, Korea and China must be big – but for us to get into those markets we need to localize and pump out a lot of crowdsourcing, and that's not easy.
In Asia, specifically, Eight will challenge CamCard – a card-scanning app that boasted 50 million users last year (with half of those in China).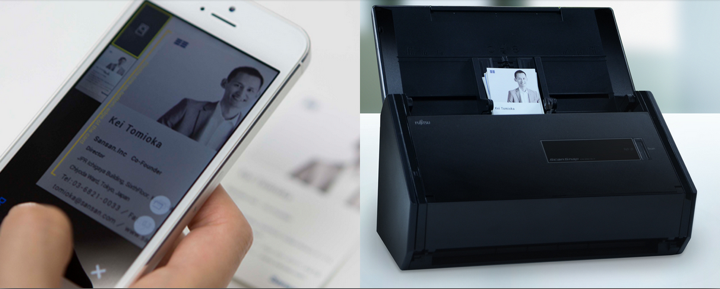 Human transcription
Whether scanned or photographed with a smartphone, business card data is transcribed by real people – not machines – to guarantee 99.9 percent accuracy.
"Transcription has been the key," Terada says. "Unless you transcribe business cards manually, you can't get accurate data. Optical character recognition (OCR) technology has been in the market for years, but OCR can not assure accuracy. If something is missing on your digitized business card, it becomes useless. For example, if a letter is missing or 'i' becomes 'l,' an email address cannot work."
The transcription process takes about a day, after which a user can view and search for saved contact details. Sansan users can also invite colleagues with the same email domain address to share contacts.
See: Japanese office supply giant introduces business card scanners for individuals and companies
"We've transcribed more than 30 million business cards so far, and we're currently transcribing about four million a month," says Terada. "The number of business cards coming in is always increasing."
When asked how the company handles such volume, Terada smiles. "That's a secret," he says, elaborating slightly:
We combine all kinds of resources – like crowdsourcing and offshore business process outsourcing (BPO) companies – then we also have full-time employees to manage them. Mainly, we use crowdsourcing to transcribe. For our system to ensure accuracy, we always have at least two operators entering data. When their entries match, the data is confirmed.
One can only speculate on the number of transcribers employed by Sansan, as Terada wouldn't provide a ballpark number. Sansan currently boasts 2,000 enterprise customers in Japan, and the CEO says they add another 100 every month.
Eight, which is only available in Japanese, has more than 650,000 registered users. Between 40 and 50 percent of those are monthly active users, according to Terada. Linkedin, in comparison, has just over 1 million registered users in Japan.
"We're expecting to pass them in a few months," Terada says. English support is currently in the works and could arrive by the end of the year.
Escaping the "salaryman" lifestyle
Terada doesn't just want to shake up the world of contact sharing – he's also committed to changing Japan's rigid work culture. Instead of being trapped in a cubicle, hidden deep in a Tokyo skyscraper, Sansan employees are rotated in and out of an old house-turned-office in the little-known town of Kamiyama.
Kamiyama, located in rural Tokushima Prefecture, is a nine-hour drive or an hour-and-15-minute flight from the hustle and bustle of Tokyo. Terada was inspired to look beyond the confines of Tokyo after spending time in Silicon Valley:
They work differently than we do in Japan – their workspaces are big, their houses are big, the city isn't so filled up [as Tokyo]. After I founded the company, our developers were commuting back and forth to the office every day and working all day in front of a computer screen. I felt, 'they can do that in another location, it doesn't have to be in Tokyo.' I wanted to try a new way of working.
Terada found Kamiyama through an introduction to Shinya Ominami – a Kamiyama native and the chairman of a local NGO. That NGO, Green Valley, was interested in helping artists and IT companies escape the painfully overcrowded trains and exorbitant living costs that can make life in a metropolitan setting unbearable. Sansan would become the first startup to establish a satellite office there. Now, more than 10 IT companies have followed suit.
With Japan's national birth rate crisis and able-bodied youth leaving the countryside in droves to seek better job opportunities in big cities, the sudden influx of fresh workers had a surprising impact on the town of roughly 6,000.
"Kamiyama was destined for decline – but surprisingly, the population increased last year" says Terada. IT infrastructure also hit highs that a middle-of-nowhere town could only dream of – a study showed that broadband internet speeds in Kamiyama were 10 times faster than in Tokyo. The town became a case study on slowing down urban migration and is frequently visited by regional government officials hoping to replicate its unexpected successes.
Terada bumped into a cultural hurdle after sending his sales team to live Real World-style in Kamiyama. Japanese companies prefer face-to-face meetings over phone calls or Skype – something that is only possible in a big city like Tokyo. This fact hasn't fazed Terada, who insists that the old-fashioned way is unproductive and overly time-consuming for members of his staff.
"That's one of the disadvantages this country has," he says. "Japanese people need to change the perception of the way of working. 'Oh, you should visit us because you want to sell something to me. Hey, it's rude that you don't visit us.' That's the feeling many senior people have and it should change. If you visit a company in person, you can only go to about four a day. But if you do Skype sales, you can have eight meetings – all while avoiding the packed trains."
While it could take years for older companies to accept his way of doing business, Terada insists that the old guard is taking note of the little guys:
Japanese startups tend to imitate the Silicon Valley way of thinking. These old companies that are getting in trouble, they are now trying to copy the way the startups do things.
As essential as a copy machine
Last year, Sansan closed a US$5 million series A round led by Nissei Capital. Before that, the company received approximately US$1.5 million in seed funding from CyberAgent Ventures, GMO Venture Partners, and Recruit. Terada wouldn't disclose exact financials, but he says the company is on track to make US$50 million in the next two to three years. He is confident that Sansan will become a necessity in the workplace.
"I imagine that in three years, all of the companies in Japan will be using our service just like a photocopier," he adds. "Every office has a copy machine, and I know they didn't even think about whether to buy it or not – they just did. Our business card management can be like that. Every company should need this."
"At that point, I'll be very proud of building a new market, a new standard."