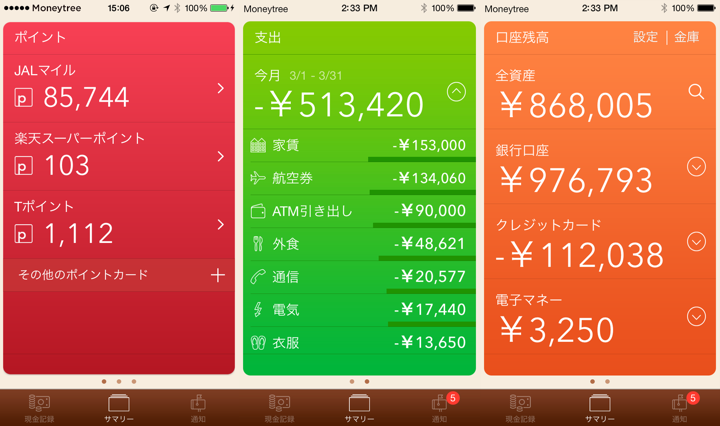 From the biggest electronics retailers to the corner convenience store, businesses in Japan love issuing point cards in an attempt to keep customers coming back for more. Even casual shoppers eventually find their wallets bulging with point cards, which are easily forgotten once they're removed to make room for something else. Tokyo-based personal finance app Moneytree, which prides itself on helping users understand their spending habits, announced that it will be adding a point card tracking service on Thursday.
"Points are money," explains Zach Taub, head of marketing at Moneytree. "In Japan, one point usually equals one yen, but it's easy for people to forget about them. Point tracking goes back to our core mission – helping people make better decisions about their finances."
Moneytree, which launched in April 2013, will soon display balances from Japan's top point providers – including T-point, Ponta, Rakuten Super Points, Yamada Denki, Bic Camera, Matsumotokiyoshi, ANA, and JAL. More will be added in the near future, says Taub, who hopes that the addition of points will lend people to consider Moneytree as more of a lifestyle app than a traditional finance platform.
Many point providers already offer mobile apps that allow users to leave the physical cards at home, but they rarely show how many points have been accrued or when those points become invalid. The service will also alert users when points are nearing their expiration – an extremely useful addition considering that many points expire if not used within six months to one year.
"Points aren't very visible and the companion apps seem to deliberately hide or make viewing point balances hard to see," Taub says. Though it may appear that some companies may intentionally hide points in the hope that consumers forget about the free money being carried around in their pockets, making them visible may actually be more economically advantageous.
"We found out that when people have points, they often buy more than something for exactly that amount," adds Taub.
The app's simple interface displays income and expenses, alerting users when big purchases are made or when money is disbursed into their connected accounts. Expenditures are automatically categorized, providing an instant glimpse of a user's spending habits. Because many Japanese prefer paper over plastic, Moneytree also allows them to manually input cash transactions.
See: For this startup, dominance of Japan's $3.7 trillion personal finance market is not enough
At present, Moneytree can connect with 1,300 financial institutions in Japan. That translates to roughly 98 percent coverage of the country's entire banking and credit card market. The app has been downloaded nearly half a million times and has aggregated more than 50 million transactions.
Moneytree was awarded Best App of 2013 by the Japanese App Store and remains an iOS exclusive. iPad support was added last April. Last December, the startup landed US$1.6 million in seed funding led by DG Incubation, with executives from MasterCard, Morgan Stanley, and PayPal also contributing.