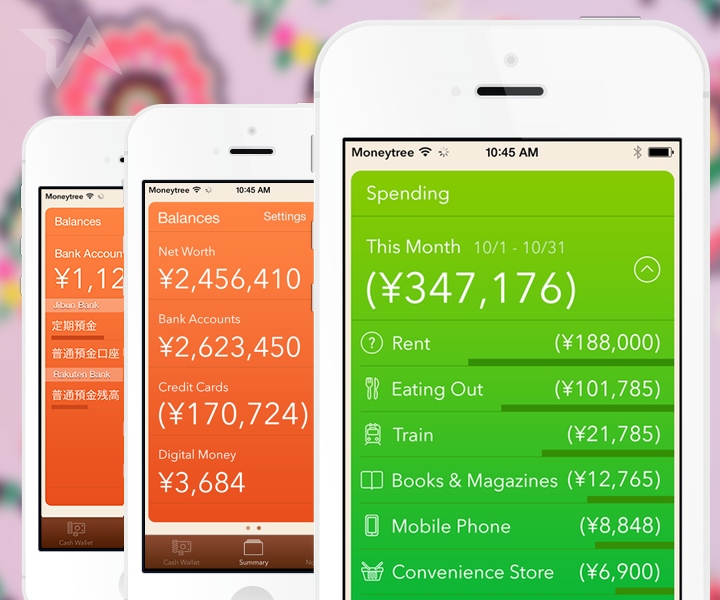 Moneytree app is all about knowing where you're spending. The app's makers, too, are being careful how they're spending their new seed funding round which is worth a sizable $1.6 million. Moneytree CEO Paul Chapman tells us that the investment will be ploughed into expanding the Japanese app to three new markets – the US, Australia, and New Zealand
The personal finance iPhone app allows users to connect their Japanese bank accounts – from a choice of dozens – and credit cards so that you can see where the money flows out, and get notifications about what's coming in. All that happens automatically, Plus you can manually input your cash expenditure to better keep track of where your money goes in the course of a month or year. It's a slick app that doesn't feel like a banking application at all. That's deliberate.
Paul says that Moneytree, which was launched in April this year, was created to feel more like a fitness tracking app – more like the experience you'd have with things like Nike+ Move. He explains that he wants the app to have only a "low wall to get over" in terms of understanding. That means it's easier to use, and there's an element of staying motivated to monitor your numbers. That's the ethos the app will carry on in its global expansion.
Paul adds, "We're trying to create a simplified experience for your banking relationships."
The Moneytree team claims that the ease of use means that the finance app sees the kind of high user retention normally seen with fun apps like social games. It's seen a quarter of a million downloads in Japan so far, but no registered or active user numbers are being revealed yet.
Finding global partners
Paul's experience with creating customer relationship management back-ends led to the desire to create a banking app that doesn't feel so dry and dull. "No one's really doing that in the US market," he adds. "There's very much a B2B (business-to-business) mindset." And that's hampering people from doing mobile banking on the apps available out there.
While Moneytree's UI will likely appeal to western users, the expansion will take a lot of time. Right now, quietly in the background of the Japan operations, the Moneytree team is forming partnerships with third-party data holders in the banking sector in the US, Australia, and New Zealand so as to build the foundation of the global service.
The Tokyo-based startup is looking at late 2014 – yes, a whole year from now – as a time when it'll be ready to go global and do it right. "We need enough capital in a market like the US," Paul explains. While it's unusually large seed funding helps at this early phase, the CEO reckons that series A funding will be needed before its planned roll-out to new countries can go ahead.
There's the possibility of a Silicon Valley office, but there are no concrete plans at this stage.
No Android love?
Moneytree's funding, which was quietly revealed in November, is led by Tokyo's DG Incubation, with money chipped in from former executives at PayPal, MasterCard, and Morgan Stanley.
Some of that investment is going on app development already. The next step is to bring Moneytree to a dedicated iPad app, then there'll be a responsive web app version that will smartly fit to smartphone screens. After that, the startup will work on paid features. Despite Japan's Android explosion, there's no love for an Android app quite yet. "It's more complex and more costly," Paul says, to do a good job of UI design on Android. So, for now, aiming at high-end users in Japan, iOS-only is a good fit. Paul says that focus is validated by the recent huge boom in iPhone sales in Japan that was prompted by the iPhone finally being available on Docomo.
Moneytree has eight full-timers in Tokyo right now, with two more being added, including a data scientist, soon.
(Editing by Paul Bischoff)