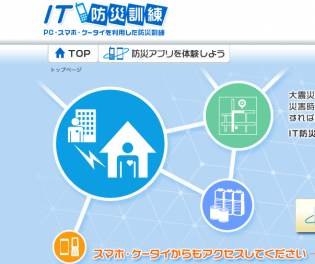 According to The Wall Street Journal's Japan Real Time blog, the Japanese government is aiming to create an improved system for spreading emergency information in the event of an earthquake or tsunami. It has established a sort of 'IT disaster lifeline' portal over on itbousai.go.jp which is in a month-long testing phase.
The website will be accessible from mobile phones, which is certainly a big plus since in the event of a tsunami or prolonged blackout, many citizens are suddenly without the use of a personal computer. It will bring together a number of online emergency services, including updates on things like traffic, water, or power — from organizations like NTT, KDDI, NHK, Google, Twitter, typically with viewing options for PC, tablet, and mobile. Regarding the new portal the WSJ report cites a cabinet office official as saying:
The government and companies have been discussing how IT can assist people in case of emergency, and we've launched the drill service because now we are in the annual week-long campaign of disaster prevention.
Twitter Japan posted on its blog just last week that it would be stepping up its role in emergency situations. It will be encouraging users to use a special hashtag to signal that they need rescue, perhaps inspired by how this method was recently used during floods in the Philippines.
I was skeptical about this effort from Twitter when I first heard about it, because without a strong effort to centralize and promote the information — like this one from the government — it would not work quite as well, I think.
Online emergency services still need to be supplemented by other means to ensure that all members of a society, including those who aren't so internet savvy, have a means of staying informed. But for those of us who rely heavily on the internet, it's great to see this effort and I hope they can improve on it after this test.
On a somewhat related note, the Recovers.org initiative in the US takes an interesting approach to facilitating disaster recovery. You can see more about it in their recent TED talk.