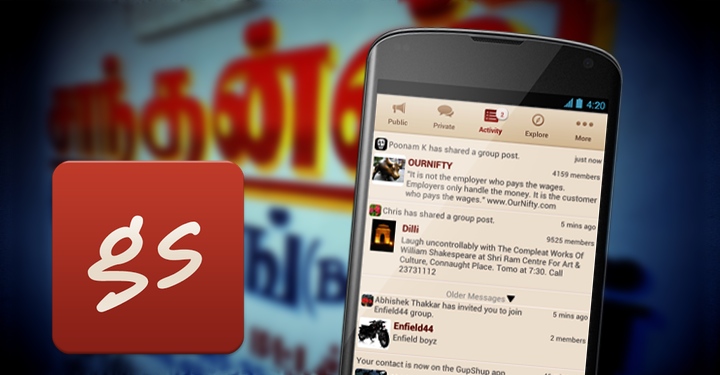 In a bid to expand its reach among non-English and non-Hindi speaking mobile users in India, locally-made mobile messaging app GupShup is going multi-lingual. Now, GupShup messenger users can chat with their friends in nine Indian languages: Hindi (national language), Bengali, Gujarati, Kannada, Marathi, Punjabi, Malayalam, Tamil, and Telugu. Initially the app supported only the English language.
With these nine languages newly added, GupShup can strategically target users in states where people speak local languages rather than English or Hindi. Localization of the platform does offer an edge to GupShup against the rise of other mobile chat apps such as WeChat, Line, Whatsapp, Nimbuzz, and others that predominately are English-based or support Hindi to an extent.
Moreover, GupShup has also introduced regional keyboard features to facilitate local language users.
SMS roots
Interestingly, GupShup has come a long way since it was founded by IIT-Mumbai and MIT computer science graduate Beerud Sheth in early 2005 with seed capital of $1 million raised from personal savings, close friends, and family relatives. It was originally called SMS Gupshup as it was based around text messaging; that early service raised $10 million in funding in 2011.
Now GupShup is more like Whatsapp – no longer restricted to SMS – and works with Android, iPhone, BlackBerry, and Nokia S40 series phones.
Milind Agarwal, co-founder and chief community officer at GupShup, said today:.
Supporting multiple languages is the most important aspect of localisation. And we at GupShup believe in bringing our diverse nation at one app and make the users feel at home and communicate with each other in their own mother tongue.

Therefore, supporting multiple languages was a prerequisite for increasing the number of potential users. We believe that it is important to serve all of the users with diverse features and simplify the user interface significantly.
GupShup claims to have roughly 65 million users. Beside the platform for mobile users, GupShup also has an enterprise edition targeted at Indian businesses.
(Editing by Steven Millward)