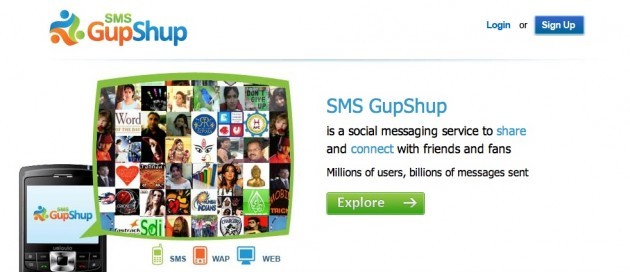 SMS GupShup, India's Twitter-like SMS service, has raised Rs 50 crores ($10 million) from a series of venture capital investors to reach a valuation of Rs 1000 crores ($218 million). It has also reached the 50 million user milestone.
According to the Economic Times, the four year old mobile social network, which is one of the largest text-based group messaging services in India, raised this capital from existing investors like Lloyd George, New Horizons, Charles River Ventures, Helion Ventures and Globespan Capital Partners, and was led by an US-based venture capital firm Tenaya Capital.
This is the fifth round of funding, taking SMS GupShup's total funding to $47 million. Previous rounds raised $7.5 million in December 2006, $11 million in October 2008 and $12 million in January 2010.
Launched in April 2007, SMS GupShup – which was spawned from Webaroo, an offline web content storage start-up – reached 45 million users and over two billion SMSs processed per month, as of April 2011. Further, the company was reportedly adding over one million members per month, attributing its rapid growth to the immense popularity of mobile devices in India.
Also, after observing significant traction from advertisers and brands who were looking to connect with Indian consumers, the company launched its enterprise product called BizShup last month. That's aimed at helping small businesses advertise to millions of its network users at a nominal cost.
Revenue-wise, the company said it grew by over 400 percent in 2010 and expects to touch Rs 100 crore ($21.8 million) by the end of March 2012.