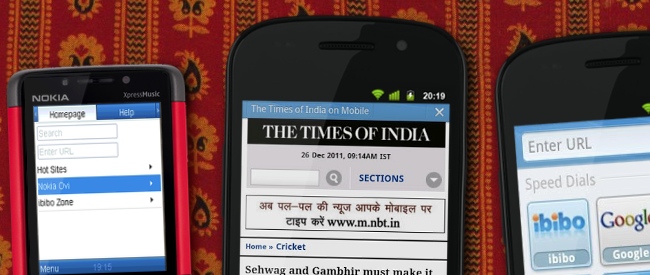 China's social media and online gaming giant Tencent (HKG:0700) has a stake in India's largest gaming site Ibibo, and thus was born the iBrowser, a web browser that was conceived in China and is now taking off in India having just passed the six million download milestone.
The Ibibo iBrowser app is available for Android, Symbian, and JAVA-based phones, thereby making itself available to nearly all of India's 860 million mobile users, most of whom are on basic feature phones.
iBrowser's six million milestone comes a very short time after its formal launch, which happened back in December of last year. The company claims that, of its downloaders, "50 percent of these are monthly active users," and that the most-visited site in the browser is Facebook. It also comes pre-installed on a number of handsets sold in India, thanks to partnerships with the likes of Huawei, LG, and Spice.
The browser claims such localized features as pre-bookmarked local websites, and advanced data compression that can reduce, so Ibibo says, data costs by 85 percent. That's especially important in a country where people are used pay-as-you-go GPRS which can be slow and unwieldy. It's a cloud-powered tactic first pioneered by Opera, which likewise says it Opera Mini browser can save users time and money online.
Ibibo's app is based on Tencent's QQ Browser. There's also an iPhone version of QQ Browser, but it seems Ibibo has decided not to bring that to India quite yet.
Not just using one app store seems crucial to success in India, and so Ibibo makes its browser available from a lot of sources, such as Getjar, and Mobango. If you want to give it a spin, it's also available from the dedicated iBrowser minsite.