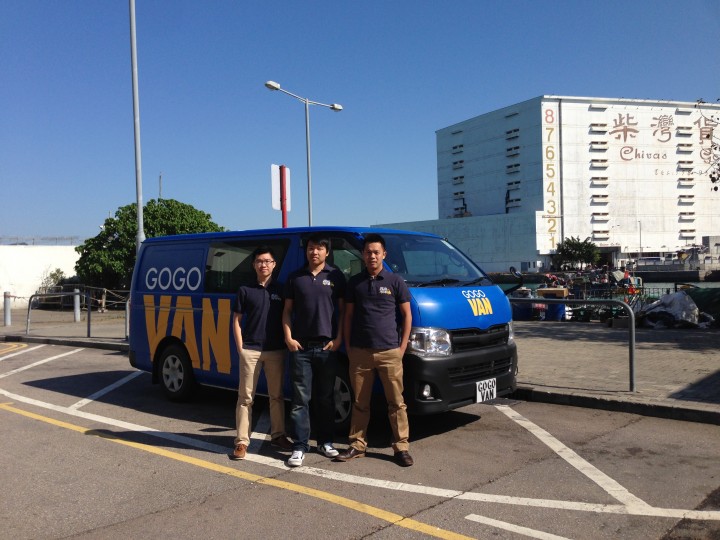 GoGoVan, the Hong Kong-based startup that helps consumers and businesses get their stuff delivered quickly, revealed today that it has raised US$6.5 million in funding. Centurion Investment Management led the round, with several unnamed Singapore-based angel investors participating.
GoGoVan chairman Gabriel Fong tells Tech in Asia that the team will use the funding to ramp up its expansion efforts. The team intends to enter Taipei, Melbourne, and Sydney by year's end.
GoGoVan is like Uber for cargo in urban areas. Users who need stuff moved – whether it's the old sofa in the living room, or 100 pizza boxes to Paisano's Pizzeria before the lunchtime rush – can log on to the app, specify the pickup and drop off location, and summon a driver. GoGoVan will set base prices depending on the delivery route, which users then give to the driver in cash. Of course, it's through the pizza box deliveries that GoGoVan really adds value to its users – for businesses that need cargo shipped immediately, going through an app is, in theory, quicker than making a phone call to a dispatch center.
See: 'Uber for logistics' is already happening in Asia, and Uber is getting left behind
When we last caught up with GoGoVan, the startup had just expanded into Singapore. Since then, the company has begun making inroads towards monetization. One month ago it launched GoGoFuel, a special card that provides its drivers with discounted gas prices at select fuel stations. By partnering with major fuel providers in Hong Kong, GoGoVan can rally for bulk prices on fuel purchases, and then keep a cut of the total fuel purchases for itself. It's not the most intuitive method for monetization – GrabTaxi, for example, monetizes its taxi-hailing app in some markets by charging drivers SIM card-esque top-up fees.  But GoGoVan's scheme imposes fees on neither the driver nor the customer, which might ensure loyalty among its repeat users.
GoGoVan faces competition from EasyVan, a like-minded competitor also based in Hong Kong. When we checked back in June, GoGoVan had 18,000 vans on its network, while EasyVan had reported 8,000. GoGoVan currently claims it has generated more than 1 million transactions since its launch in July 2013, generating an aggregate transaction value (not to be confused with actual revenues just yet) of HK$120 million (over US$15 million).