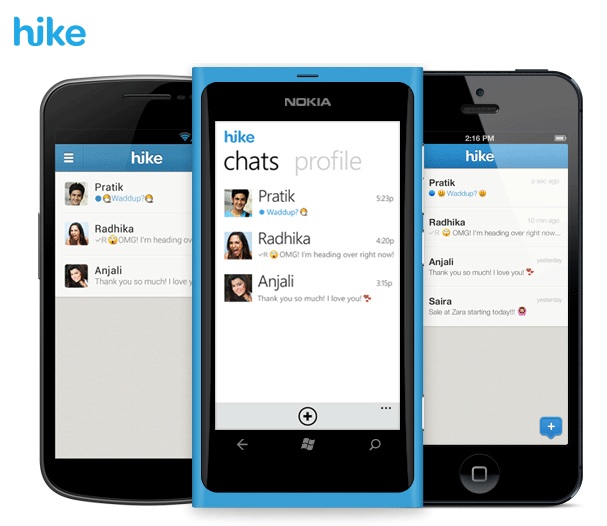 The India-made messaging app Hike, which we previewed back in September, has made good on its promise to launch internationally. And to make it even more accessible, Hike app is now ready to greet the world with new apps for iPhone and Windows Phone (WP) joining its original Android version.
The act of going global wasn't as easy as flicking a switch. Kavin Bharti Mittal, from the Bharti Softbank (BSB) incubator that guides Hike, tells us that the app "started rolling out to five countries every day as part of our 'around the world in 20 days.'" Today the process was complete. He says that the app – which takes on rivals as diverse as BBM, Whatsapp, Line, and WeChat – initially proved so popular that it put a big strain on their servers, and so "launching in a phased manner" made more sense. That also explains why it was a bit late in arriving.
One unique feature of Hike – among such social messaging apps, anyway – is that it also supports SMS, allowing its global users to do Hike2SMS and Indian users to fire back with SMS2Hike. Kavin says that, in feature phone-loving India, approximately half of the usage is via SMS, but, in general around the globe, folks are predominantly messaging when on wifi or mobile data plans.
Of course, going into more markets will also result in meeting users with many different demands. While Hike is quite minimalistic, it might find people want features that they're familiar with from Line or WeChat, like video messaging or themed sticker/emoticon packs. Hike will be adding new things, Kavin says, but he's remaining tight-lipped on what that entails. He adds:
There are lots of new features coming in 2013. Hike will be very different by end of first quarter. Building on our philosophy of less is more we will always keep user experience prime, which also answers a question we get asked usually – whether we will serve ads in hike to monetize. We won't. Ads, we feel, are bad UX.
Well, at least there won't be ads. Judging by Hike's reception on Android, where it has mostly five-star reviews on Google Play from users around the world, it's off to a good start with its new audience.