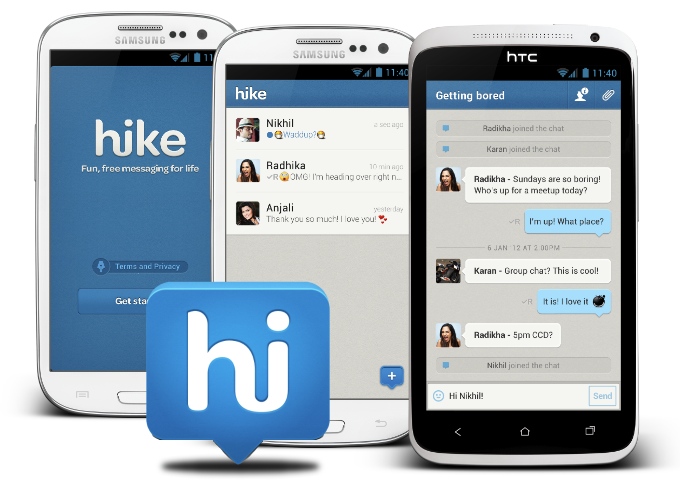 As Korea gave birth to Kakaotalk, Japan to Line, and China to WeChat, an Indian startup is looking to have its own group messaging smash hit with the new Hike app. For the moment, Hike is Android-only, but versions for iOS, Windows Phone, BlackBerry, and Symbian are in the works. Also, Hike has been focusing on just India in its first few months of running – but the aim is for it to go global.
Of course, New Delhi-based Hike will need to challenge some other behemoths in this space, such as Whatsapp, and eventually Apple's iMessage too. To do this, a Hike team member tells us that the startup is listening to its early users and making good design a priority. And then the big leap: "We will be launching cross [mobile] clients and globally in October this year."
With India's phone users being such fans of SMS, Hike is not just relying on its apps, and allows its global users to do Hike2SMS and Indian users to fire back with SMS2Hike. The first option is free for Hike users to do, and the latter response costs only the same as a regular SMS.
In terms of features, Hike is opting to be as minimalistic and judicious as it is with its elegantly simple design. A member of Hike's 'growth team' says of some of its local and global rivals:
They are building features like video chat, voice chat and what not, which the Indian infrastructure does not support. Also, somewhere the customer requires an app which is simple and enables him to do what he intends to, rather than building features which are seldom used.
And so, after consulting with users via social media, the Hike crew will focus on group chat and file transfers, plus a spam filter that they reckon is clever enough to learn what you'd consider to be a rubbish message; but the team is open to other things as input from app users comes through.
After launching just over a month ago on Android and getting into the Google Play store, Hike has between 10,000 and 50,000 downloads from there, mostly in India and without using any marketing, which the Hike team reckons is a good basis for its global roll-out – and the appearance of the iPhone app – next month. The startup is under the wings of the Bharti Softbank (BSB) incubator, which is a joint venture between the Indian and Japanese telcos.
The head of product and strategy for BSB, Kavin Bharti Mittal, weighs in:
People use messaging in various forms; they use it via different apps and modes for different purposes. What we're trying to provide via Hike is a single application to connect with everyone via messaging. We believe that streamlining this will greatly improve the connectivity of Indians.
And, soon, other markets too.
Though a pretty face and a keen attitude will help it, Hike faces old challengers like Whatsapp, and newer ones like China's WeChat, which is gunning for Indian users these days.
Get Hike for Android in Google Play – though it's still limited in which nation's users can download it prior to the upcoming worldwide roll-out.
[UPDATED: Added in Kavin's quote]