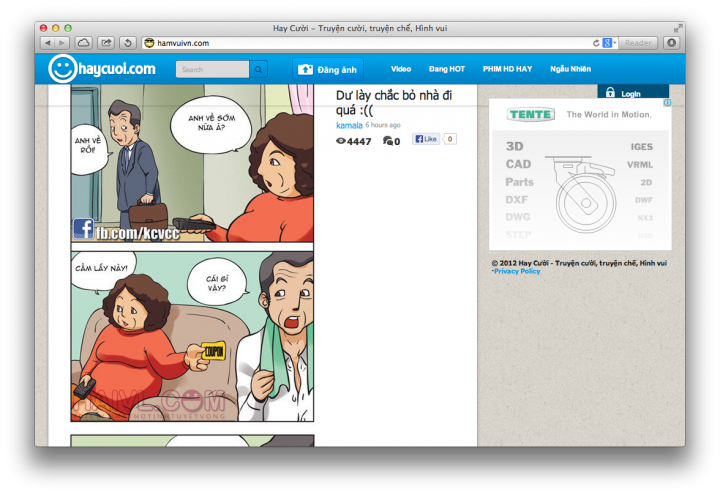 In May, we told you about HaiVL, Vietnam's 9gag replica that gets over two million hits per day. For those not in the know, 9gag is a site where users can share funny photos with each other. When I took a look at the online advertising stats using Dtrack, HaiVL topped the charts for getting the most views and clicks for online advertisers. Suffice it to say, it's an online content model that is deeply compelling in Vietnam. Vietnamese users want to laugh, cry, and gossip around funny pictures.
Well, Bryan Cranston may say,"anything really worthwhile is perishable," but in Vietnam we say ,"anything really worthwhile is copiable." HaiVL copied 9gag, and now Hamvuivn is copying HaiVL.
I contacted the CEO of Hamvuivn, Nguyen Van Nguyen, who said:
Actually, Hamvuivn is just one of our "not so serious" projects. As you can see on the website, we've closed our membership registration and only allow moderators to post photos up. The whole point of the website is just to grab visits from Facebook and run banners on our website.
He declined to give further details on the platform. He also declined to give further details on his two other projects. So far, it seems the small project gets 3,000 views on average for each of its posts, with nary a comment. This is quite different from HaiVL, which averages well over 5,000 views per post and gets hundreds of comments on each.
In some ways, Hamvuivn is another example of a lackluster clone that doesn't execute all the way because the founders are distracted by other projects. But it also underlines a big potential market or business model: content. Models like HaiVL and Hamvuivn, which crowdsource content but masquerade as social media networks, are still quite new in Vietnam. It's still a world dominated by forums and online news sites. If only they would take it more seriously.
(Editing by Steven Millward)