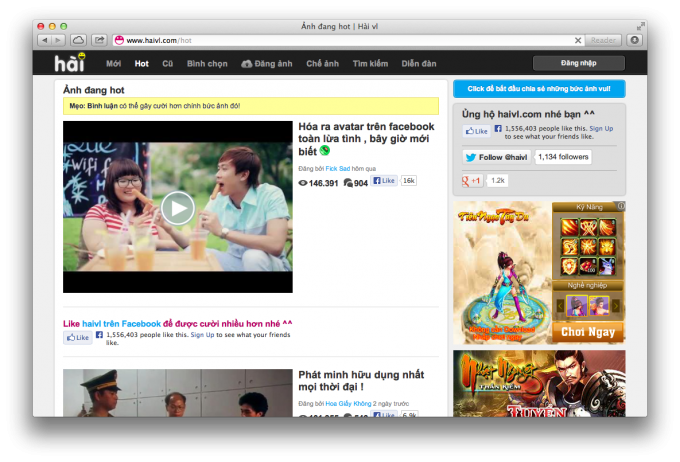 Content in Vietnam is a wasteland. Most of the nation's users are flocking to forums where most of the content is being generated. For the past four years or so, much of the user-generated content has been on forums like Kenh14, a general board with topics spannng lifestyle to sports to fashion, and which is owned by internet juggernaut VC Corp. It has long been one of the hottest places to get on the Vietnamese internet. I've heard on the grapevine that it gets anywhere from 2.5 million to four million unique visits per day. On the other side, there's the more niche forum Web Tre Tho which has over one million users who are mostly women.
(UPDATE: It has come to my attention from VC Corp, that it is not exactly a forum in the traditional sense. But it is still a central place in which people comment and talk about modern day issues according to topic, some consider this to be a "forum", others not. Also, I want to clarify that "Content is a wasteland" does not mean Vietnam's content is bad, but means that it is not organized very well, especially the user-generated type.)
To me, this forum-obsessed internet (common across most of developing Asia) is holding back richer content models like could be something more like Quora, Reddit, Digg, Wikipedia, and more. This is why HaiVL is one of my absolute favorite startups in Vietnam, because they've cracked a content problem. In just one year, with one developer, the site has achieved two million unique visits per day, which could mean anywhere from 30 to 60 million per month. That's impressive for a team of just 5 people.
Hai, literally means "comical", "funny" or "hilarious". And that's the prime focus of the website. It's a platform for users to throw up funny images (or videos, which make up for 1/10 of posts) that they found or created and other users can like or comment on them. Users are uploading 3,000 to 4,000 photos per day. It's a spitting image of 9gag (which currently gets 65 million uniques per month). And HaiVL's got serious traction. I spoke to Vo Thanh Quang, co-founder and CEO of AppVL, the small company that is totally focused on HaiVL, their main product. He said:
We didn't expect the kind of growth that we now have. At first, I just started out alone, and after not doing Place.vn which didn't totally take off. Then suddenly, I started to see huge growth and had to hire a team to deal with our scaling. Now, today, we're already running a profitable business with stable revenue.
The HaiVL team has also built apps for Android and iOS which respectively both got about 50,000 views per day, and 700,000 downloads in total. The majority of the users are within the 17 to 30 age range. And HaiVL's revenue comes from ads. The key growth has been on Facebook, where they'e got over 1.5 million 'likes' on their fanpage. In fact, HaiVL is very closely tied to Facebook since users can only post if they have a Facebook account, and much of their early growth can be attributed to engaging Facebook heavily. But today, of their two million unique hits, 50 percent of them come directly. That means it's seeping steadily into the consciousness of Vietnamese netizens. In the future:
We're looking at just staying really focused and growing our userbase to 10 million unique visits per day. We also just added an editing function so that users can edit their photos online. That's a long way off, and getting there will take time, especially since our growth up to now has been largely linear.
Another cool thing about HaiVL, is you start to see a new face of Vietnam. Although it's about funny images, users often post very supportive images about poverty or the environment that also get lots of upvotes. The average popular image gets about 500 upvotes. As far as censorship goes, in case you were wondering, HaiVL does have a policy to take down any content that is politically sensitive or porn/nudity. Any user who violates these rules gets booted from the site within 30 minutes, their content gets taken down, and the user is not allowed to post ever again.
I think this is a really cool startup to look out for, mainly because it's pushing Vietnam's content space to the next level. We'll keep you posted when they hit their next million.