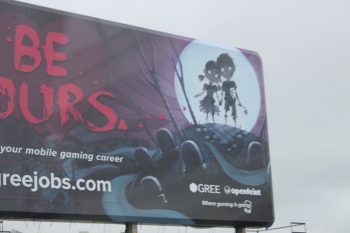 Furthering its already very broad expansion, Japan's GREE (TYO:3632) announced over the weekend that it would be setting up new offices in San Francisco, in the China Basin area which is home to many other social mobile gaming companies.
Eiji Araki, the senior vice president of social games at GREE International noted:
Our team is hard at work to deliver best-in-class content… Our aim is to constantly change the face of mobile social gaming and we know, without a doubt, that San Francisco is THE city to find the top talent to build unique games from the ground up for the Western Market.
GREE's Tokyo office has set a pretty high bar, but from the sounds of things, the China Basin office sounds like it will be a great place to work as well. In its announcement the company highlights ergonomic design, on-site yoga classes, and fully stocked kitchen for its workers. For folks out there looking for a job in the mobile gaming industry, GREE says that it plans to double its US headcount over the course of this year. To find out more, check out greejobs.com.
Gree also recently announced that it will be attending E3 in Los Angeles this June. And if the company brings the same swagger that it brought to last year's Tokyo Game Show, it could very well be the company's big coming out party for North American audiences. As you can see in the chart below, there are nearly 190 million users under the GREE Group umbrella already (GREE plus Open Feint). The company's upcoming global gaming platform is expected sometimes between April and June.