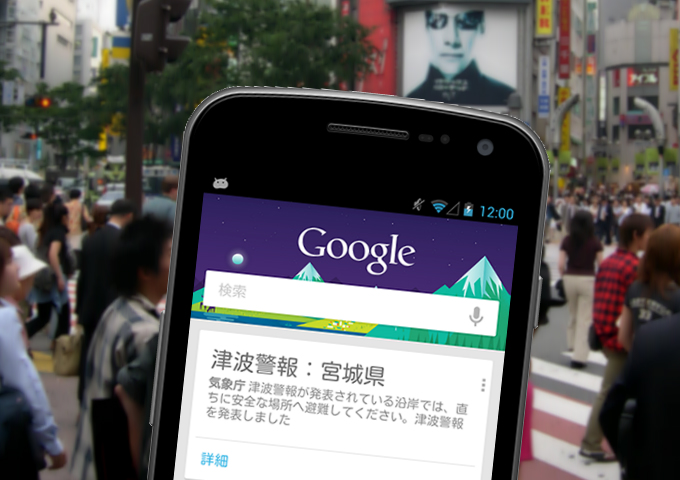 Japan already has a sophisticated and trigger-quick public alerts system for disasters like earthquakes and tsunami – and now Google (NASDAQ:GOOG) is helping out to ensure that these life-saving notices are seen by people as they browse the web. The Google Public Alerts system has just launched in Japan, marking the first time it has been rolled out beyond the United States.
With this new implementation by Google, whenever a disaster alert goes out, it will become visible instantly on Google Search, Google Maps, and Google Now (pictured above). So if a person misses the alerts on, say, TV or SMS, then they might catch the important notice prominently displayed across those Google services. These alerts appear across mobile or desktop sites. Here's how it would look for a tsunami warning when using Google Maps: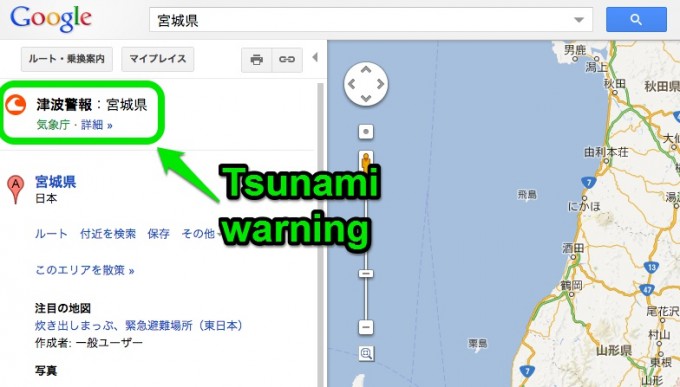 Google's blog notes that this is being run in conjunction with the Japan Meteorological Agency.
Perhaps the cleverest part of the whole scheme appears in Google Now. So if I'm on a trip to Tokyo, my phone's location will have already been detected by Google Now – and then if a disaster alert is issued, I'll see it as well despite not even living there.
As we noted recently, Japan's government has set up a sort of online portal for post-disaster co-ordination to ensure that latest information is available to people even if black-outs have taken down TV and radio.
Get more info on the Google Public Alerts homepage.