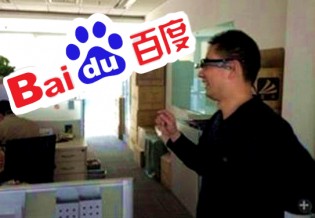 Yesterday, we wrote about the rumors spreading in the Chinese tech media that Baidu was working on a Google Glass-like augmented reality headset called "Baidu Eye." Today, a Baidu representative confirmed to Tech in Asia that Baidu is indeed working on augmented reality glasses, internally codenamed 'Baidu Eye', though he stressed that the project is experimental and may not be released as a commercial product. And although the project may appear similar to Google Glass, our source at Baidu sounded unusually confident that Baidu Eye has some features that will stand out as original and innovative.
The Baidu rep also confirmed that "most" of the details reported about 'Baidu Eye' are accurate. Yesterday, we reported that the Baidu Eye is worn like glasses, features an LCD display, can recognize images, and is controlled by voice. Of course, since the project is purely experimental at this point, there's no guarantee that any commercial product Baidu might release in the future would necessarily have those features. But from what we've heard, it sounds like the Baidu Eye might have more up its sleeve than anyone is yet aware of. (We asked for specifics, but Baidu is keeping its lips tightly sealed for now).
It's hard not to speculate about the Baidu Eye, especially given the wealth of information Baidu has at its disposal across its various services. Unfortunately, it sounds like we may still have a while to wait before we learn if the Baidu Eye is ever going to be a commercial product, and if so, what its unique features will be. However, this is obvious a topic we are extremely interested in, so we're going to keep a close eye on it (and harass our sources at Baidu about it until we can pry out some more details).
(I do hope that the company considers changing the name if it ever launches the project as a commercial product, though. When I hear "Baidu Eye" the first thing that comes to mind is this).