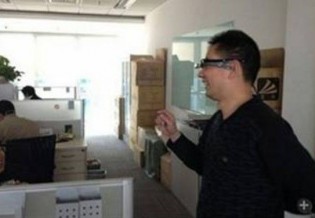 (UPDATED on April 3rd: A Baidu representative confirms to us that this is a genuine – though early – prototype that does indeed have the internal name "Baidu Eye").
Where Google goes, so too goes Baidu? It certainly seems the company may have been inspired by Google Glass if Sina Tech's report that the company is working on a new wearable tech product called Baidu Eye (pictured) is correct.
Baidu representatives were "not available" for comment, according to the China Daily. Tech in Asia has also contacted Baidu for comment, and will update this story if we hear back.
Sina's report cites knowledgeable-but-anonymous sources as saying that the Baidu Eye is worn like glasses, features an LCD display, can recognize images, and is controlled by voice. These features are reportedly already operating properly, but the style and build of the device is apparently still very much in testing (which is good to hear considering the ugly, bulky look being sported in the image above). The company is also still reportedly working with Qualcomm on getting the battery life to 12 hours or above.
Perhaps unsurprisingly, the Baidu Eye will also be an application platform that third-party developers will be able to develop apps for. More broadly, Baidu apparently is aiming to create a wearable tech platform that companies could take advantage of to release all sorts of wearable technology products.
Sina Tech's report speculates that if the device's image recognition (which includes face recognition) works well enough, it could be used to catch wanted criminals simply by walking around. However, my own immediate reaction is that the device, if it ever became widely used, could create huge problems for China's censorship apparatus (assuming that like Google Glass, it allows users to record and upload images and videos virtually instantaneously).
Still, wide adoption is still a long way away for the device, which hasn't even been officially announced yet. My guess is that a commercially-available Baidu Eye is still a year or two away — if it's ever released at all — but I could certainly be wrong. We'll be following this closely and pestering our friends at Baidu for more info, so stay tuned!
(via Sina Tech)