"In terms of the number of users and projects posted, we are the biggest," says Helma Kusuma, country manager of Indonesia for Freelancer.com. Jakarta-based Freelancer.co.id is the localized version of the international outsourcing juggernaut, and aims to capitalize on the archipelago's vast stay-at-home workforce.
In response to a Tech in Asia article published early last week that mentioned Freelancer's lower-than-average social media following in Indonesia, Kusuma says, "The number of twitter followers doesn't accurately reflect our acquisition rate. At the moment, we have almost 400,000 users in Indonesia that consist of more than 25,000 employers and over 350,000 freelancers." According to Kusuma, Freelancer.com has gained more than 12 million users wordwide. To give an idea of how quickly the site is growing in Indonesia, Kusuma adds that when Freelancer first launched in Jakarta back in 2012, it had only 60,000 registered users, less than a quarter of what it has now.
According to Kusuma, in the past 12 months, Freelancer.co.id has been the third-fastest growing overseas division of the global Freelancer operation, trailing only behind the Indian and US markets (India being number one). Kusuma cites Freelancer's grassroots engagement in local university programs and startup communities as more active than ever before.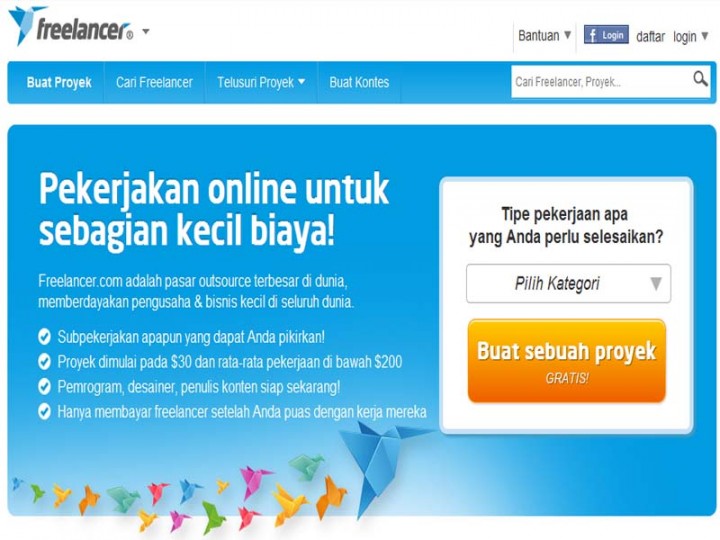 See: 30 million of Indonesia's internet users are teenagers
While the company has organized several local events, one of Freelancer's highlights was a speed networking session titled Flash Perkenalan, co-organized by the Indonesia Freelancers Association (IFA) and StartupBisnis.com. Another was a local startup seminar titled "Network Offline, Hire Online: Starting Your Successful Startup 101," held at the University of Multimedia Nusantara in Gading Serpong. IFA and StartupBisnis again helped organize the event, but this time around local digital media incubator SkyStar Ventures also got involved as a strategic partner. "Being a freelancer with us is the cheapest and fastest way to become an entrepreneur," says Kusuma. "We want the students to start thinking about their careers before they graduate, not after."
At the moment, Freelancer.co.id users can pay and get paid via services like PayPal and MasterCard in combination with Freelancer's custom gateway. Kusuma says the site will soon partner with Indonesian banks like BCA to make transactions faster and easier for locals.
New kid on the block
Ryan Gondokusumo is the founder of Sribu, the hyper-localized website for Indonesian graphic designers to find freelance work. At the start of August, Gondokusumo announced his new beta product SribuLancer, a new portal following a similar business model as Sribu, but geared toward all other digital disciplines including web development, copywriting, photography, videography, internet marketing, and everything else an outsourcer can think of. Gondokusumo says, "We feel that in Indonesia if we just focus on design, the draw is there, but perhaps not as fast as if we expand to other places."
(UPDATE 9/22/14: SribuLancer announced its official launch on September 22, 2014, after gaining 3,000 freelancers and 100 proposed projects.)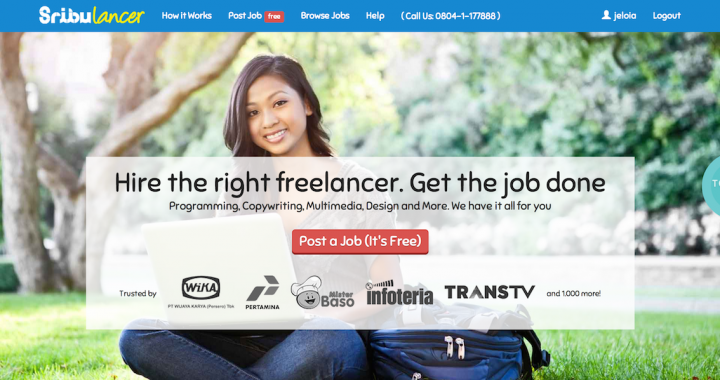 See: Indonesia's design crowdsourcing site Sribu gets funding for regional expansion
According to Gondokusumo, Indonesia has no shortage of people willing to work from home online, but that employers are lacking the right mindset to outsource their work to the freelancing community. Currently SribuLancer only has 700 registered freelancers, and is still strategizing on how to gain a critical mass of employers. Gondokusumo says, "We aim to have around 1,000 users before marketing SribuLancer to larger companies."
Gondokusumo says he's not threatened by international giants like Freelancer.co.id, saying SribuLancer's service is indeed similar, but ultimately different. SribuLancer is aimed more at connecting job providers with the right freelancers for the individual project, he says, as opposed to the more traditional tender system that Freelancer uses where workers bid on jobs. He says, "Freelancer is also pay-per-hour, their freelancers have fixed services and amounts. We want to sort of reinvent the future of this kind of work with our approach. Also, it's probably important for Freelancer to localize their product more for an Indonesian market."
If Gondokusumo's product starts to see traction in the local market, he'll likely be able to scale up operations quickly, as the young technopreneur previously received funding for Sribu from local venture capital player East Ventures (East Ventures also invests in Tech in Asia. See our ethics page for more information).
See: East Ventures helps Adskom raise $850,000
While Helma Kusuma's Freelancer.co.id seems to be the dominant player in Jakarta's self-employment ecosystem for the time being, Gondokusumo is hopeful his new site will mount a formidable offensive. Regarding payments, Gondokusumo says, "Right now we will collect 10 percent on each transaction, but as we scale up, SribuLancer will explore a subscription-based business model so that we don't have to start from the ground up every month. The biggest challenge for now is that maybe Indonesia doesn't have a fully developed market culture for outsourcing these jobs online, but hopefully we can change that."