At the end of January, two of the biggest banks in Indonesia launched payment solutions for e-commerce purposes. BCA (IDX:BBCA), the biggest private bank in the country, launched a product named KlikPay, while Mandiri (IDX:BMRI), the state-owned enterprise bank, launched ClickPay. Who knows whether the timing was coincidental or not.
BCA's KlikPay claims it has advantages such as easy and secure online payment whenever and wherever you are. So users don't need to have any additional authorization hardware since you can use its disposable OTP (One Time Password) that can be sent via SMS to your mobile phone. You can simply register yourself on the bank's site, activate your account, and use it right away. So far, BCA has Bhinekka, BliBli, CBN, Gudang Voucher, and Living Social as its online partners.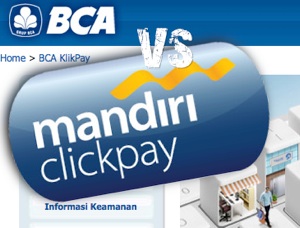 Meanwhile Mandiri's ClickPay also has the same easy authorization using a combo of the user's 16-digit Mandiri debit card and a special PIN token to validate the transaction you want to make. People can activate the service on the Mandiri banking website or the nearest ATM, and then when you're next doing a spot of online shopping you can simply choose the Mandiri ClickPay option on one of the merchant's websites. Bank Mandiri boasts 8 e-commerce partners so far: Garuda Indonesia, Plasa.com, IndoMOG, Rakuten, BliBli, EnjoySpin.com, Kagum Hotel, and Bhinekka.
With two of the biggest banks in the country finally supporting the e-commerce industry with a decent payments solution, this will prove a boost to the whole ecosystem – to startups as well as the online retailing giants. Payment has been one of the biggest roadblocks in monetizing startups in Indonesia and perhaps with the help of both KlikPay and ClickPay as options, it'll educate consumers and give them greater reassurance about shopping online.