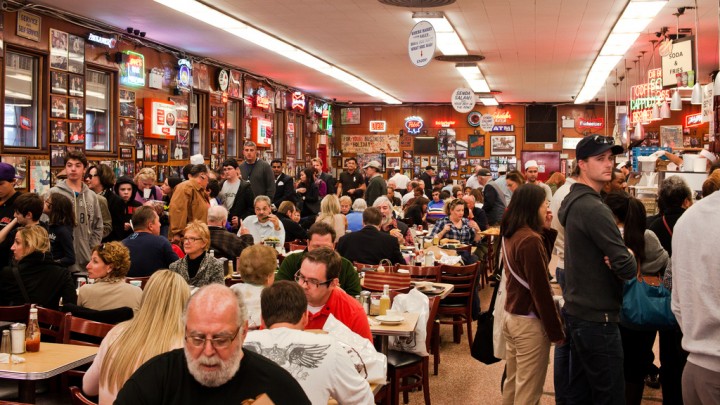 The sight of entire families working in the same industry is nothing new. According to Family Business Review Magazine, family businesses make up roughly 80 precent of all the companies in North America. In the same vein, family businesses have also played a huge role in growing the Asian economy since 2000.
This shouldn't come as a surprise, since having family members whose passion and specialization lie in a certain industry would no doubt be a boon to the next generation – assuming they want to take over the mantle, that is. Just ask Benson Chang, CEO and founder of Malaysia-based online restaurant booking site TableApp, who was more than happy to help out around the family restaurant in his younger days.
"I used to help my parents run one of their five restaurants, and so am very much aware of the pain points that come as part and parcel of running a restaurant," he says. "I performed almost every role there was in the operations side – a waiter, cashier, and even phone picker."
Through the agonizing moments of running the restaurant, he began thinking of solutions to tackle them head-on. One of the biggest problems he identified was the lack of manpower to take reservations during peak periods. "When the restaurant staff are busy serving customers, and the telephone rings, we simply don't have time to pick it up," Chang explains.
When this happens, the restaurant could very well be losing a potential customer. In Chang's opinion, the best way to remedy this is to reduce telephone bookings, and instead deal with them online. "It is so much more convenient to make a booking online, rather than have to shout over the restaurant noise to communicate with the staff at the other end of the line," he adds.
From reviews to reservations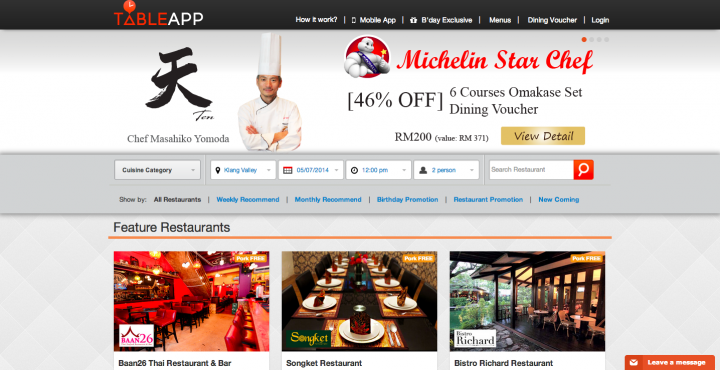 TableApp was the product of this train of thought, but it wasn't his first foray into the world of online F&B. Chang began his journey running a food review website called JoinMe. However, as many food bloggers can attest to, the food review space was far too crowded to take on yet another platform.
"Most restaurants told me, there are plenty of people writing reviews about us already, why should I pay for your service?" he recalls. "All they need to do is offer free food to the many food bloggers out there, and they would write about the restaurant. In fact, bloggers in Malaysia even actively ask restaurants whether they can come in to do reviews."
A lack of money was another problem as they weren't able to engage in marketing, unlike larger competitors like OpenRice and HungryGoWhere. He concedes: "As a startup with little capital, we just couldn't fight with them."
With this venture behind him, he came across Taiwan-based online restaurant reservation site EZTABLE while studying there. Chang decided to give it a try, and found it to be very useful. "I thought, why not bring it back to Malaysia? Restaurants in Malaysia like to see results – no results, no pay," he says. "So upon returning here, I decided to build TableApp, and charge restaurants per successful transaction made, as well as a monthly maintenance fee."
To his surprise, the concept proved to be very popular among the local restaurants in Malaysia:
When I started approaching restaurants, I made a simple PowerPoint presentation outlining what TableApp does. At that point, it was purely a concept – I had zero customers. Surprisingly, 8 out of 10 restaurants we presented to were immediately interested, and asked for a quotation on the spot. That was proof to us that this was definitely doable.
To meet the demand, Chang and his team quickly burned the midnight oil to develop a prototype and backend system for their first customers to use. All reservations, including those made via the phone, are handled by the system. Consumers can use either the website or Android and iOS mobile app to book tables.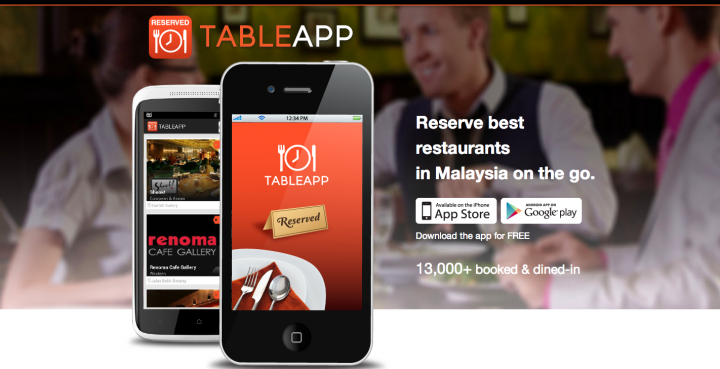 The monthly maintenance fee currently stands at MYR300 (US$94), with an extra charge of MYR1 (US$0.30) per person for successful bookings made.
Things are looking good for TableApp so far. Since launching in June 2013, the platform has about 80 restaurants on board. In certain malls, the bulk of the restaurants there actually use TableApp. For example, in a upscale Malaysian mall named Starhill Gallery, roughly 80 percent of the restaurants were on their platform. This was part of an arrangement with YTL Corporation Berhad, one of Malaysia's leading integrated infrastructure conglomerates, who will next roll it out to their hotel chains.
In the first eight months, the team hit a milestone of 10,000 diners, with yet another 10,000 in the four months after, doubling their rate of growth. "I hope to secure the next 10,000 customers within the next two months," Chang reveals with a smile.
Partnering with Groupon
To further increase their rate of growth, the team is also working on a partnership with Groupon Malaysia. This alliance was forged when the Groupon team came across a feature of TableApp on The Star, a Malaysian newspaper. They immediately identified the reservation platform as a possible partner to their food deals, according to a representative from Groupon:
Food deals are a key component of Groupon's offerings, and the organisation is always on the lookout for bigger and better innovations that will enhance their consumer experience. The collaboration with TableApp is one such innovation that will help to minimize instances where customers are faced with booking complications after they purchase a deal.
What the duo are testing out now is to place a reservation widget powered by TableApp on Groupon's food deal page. Clicking on the widget redirects customers to TableApp's website, where they can make the booking directly. "By doing this, people can see which dates and times are available for booking, and make an informed choice," Chang says.
Customers must create an account on TableApp to make reservations, but the process is relatively simple – login can be done either through Facebook, or by entering one's email and password. The reason for requiring registration is because customers are awarded points for every booking that they make, which can then be redeemed for vouchers.
On top of that, with use of the service set to increase due to the collaboration with Groupon, more restaurants will be convinced to partner with TableApp, which will ultimately benefit consumers within Klang Valley.
Plenty of room for growth
Despite their success thus far, Chang admits that there is still a long way to go in winning the market, which is massive. In Klang Valley alone, there are more than 2,000 suitable restaurants which can use the TableApp system. "Even if I only win over 20 percent of the market here, I will have 400 restaurants on my platform, which is great."
While the collaboration is still in its trial stages, Chang is quite confident of having a robust selection of restaurants within Klang Valley – and beyond:
Leveraging on Groupon's reach with merchants, this partnership will help to accelerate growth in key locations such as Johor Bahru, Penang, and Kuching.
In Malaysia, competitors in the online reservation space are far and few between – those that still exist don't pose much of a challenge, claims Chang. One of them is Kreserve, while the other is Zervit. The latter only has about eight restaurants on their platform despite being four to five months in, while the former acts more as a directory.
To be sure, certain big players are starting to take an interest in this industry in Malaysia as well. Chang isn't worried about any of his merchants jumping ship, though, as he maintains a close relationship with each and every one of them on the ground.
Chang intends to continue expanding aggressively in the coming year, but only to big cities in Malaysia – starting with Penang. The team of five will also be working on evolving the website to be more recommendation-oriented, so that customers will be more well-informed as to which are the best restaurants to go to for different events, such as birthdays or romantic dates.
TableApp is currently funded by Chang's brother, who is also in the business of F&B. Chang told Tech in Asia that he is currently in talks with several interested venture capitalists as well to raise their seed round – he intends to raise MYR1 million (US$313,000).
(Image credit: Flickr user Matt Biddulph)