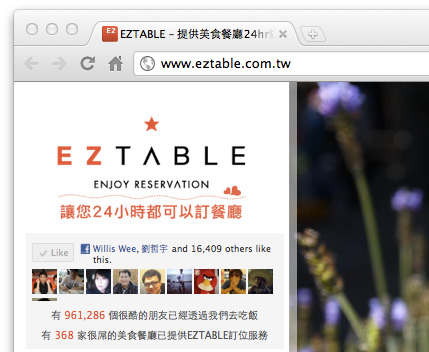 Exclusive — Taiwan-based, online restaurant reservation site, EZTABLE, informed us that it has just raised $1.5 million from lead investor, Rose Park Advisors, (by Clayton Christensen and Matt Christensen), together with NineYi Capital (by Steven Ho), and appWorks (by Jamie Lin).
The investment will be primarily used to expand the service to China and also to hire more talented engineers (click here if you're interested to find out more). In fact, EZTABLE China has already started with ten local restaurants already on board. Founder Alex Chen shared with me more about this investment:
Rose Park Advisors will give us more insights on how to explore the potential market. Steven Ho is a serial entrepreneur who successfully founded his first startup uBid and sold it to eBay in 2001. He then founded Monday Shopping and sold it to Yahoo in 2008. His rich experience in entrepreneurship would make [our] team even stronger. appWorks' ecosystem will continue to provide EZTABLE great support on every angle.
EZTABLE has grown quite a large margin since we last spoke with Alex. On average, the Taiwanese restaurant booking site has generated over 60,000 reservations each month and by the end of next month, it will hit the 1 million reservations milestone.
Alex told us that his lead investor, Rose Park Advisors, was searching for an O2O (Online 2 offline) business model startup in Pan Asia market for investment. After several research and interviews Rose Park Advisors thought EZTABLE is a good candidate. Alex elaborated:
We skyped twice and then I traveled to Singapore to meet Matt Christensen at Ritz Carlton Hotel. And then he decided to invest in us.

I met Steven [of NineYi Capital] through Jamie from appWorks. For the first few times we only discussed things about entrepreneurship and business model. Then Jamie brought me to a lunch with Steven when I started to do fund raising. During the lunch Steven noticed my "plan." The next week he called me again and told me he would like to participate in the round. appWorks was in our seed round, and now participated again.
Whenever I meet entrepreneurs in Taiwan, they all sing the praises of EZTABLE. "But there's still a long way to go," as Alex told me over coffee when he last visited Singapore.