Just when we start thinking Xiaomi is bound to cool off, it continues to keep us on our toes.
Today Xiaomi held its first flash sale in Hong Kong, during which the company put 10,000 Hongmi models – its budget smartphone that only costs $130 – up for grabs.
At 12:00 PM this afternoon, the sale opened for business. 36 seconds later, all 10,000 devices had been snatched up.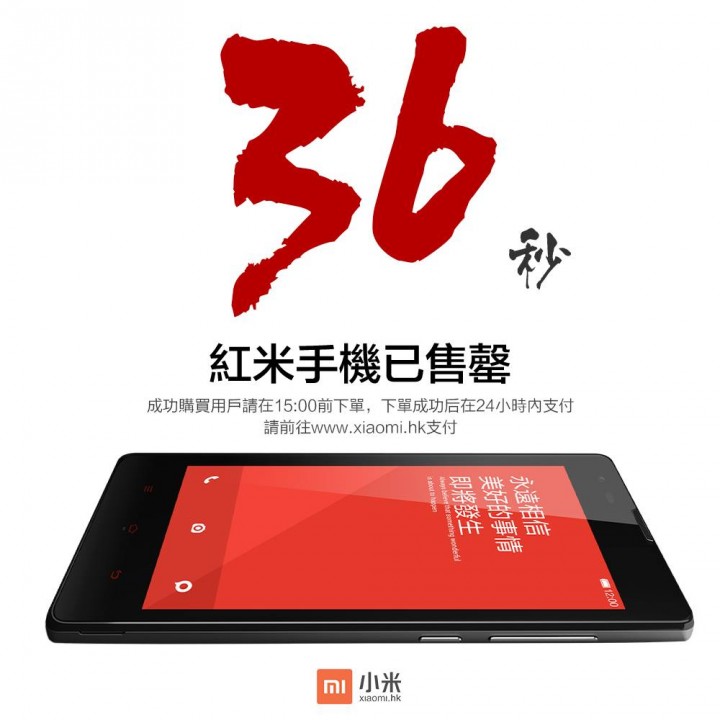 This flash sale marks Xiaomi's second-ever in a market outside of its native mainland China. One week ago the company company doled out its first batch of 10,000 Hongmi devices in Taiwan, and they disappeared in nine minutes. On Monday, Taiwanese Xiaomi fans grabbed the second batch of 10,000 phones in just over one minute.
Again, we'll stress that we ought not to take these numbers too seriously. Without knowing the number of people who registered for the sales blitz and didn't get one, analyzing flash sales can only be interpreted as a holistic indicator of demand.
Still, 36 seconds is nothing to turn one's nose up at. We'll stay on watch next week to see if it can crack the single digits.
Xiaomi raked in revenues of $2.16 billion during the first half of this year, and aims to surpass double that amount upon year's end. It's stated publicly that it intends to enter markets in Southeast Asia early next year.