UPDATE (9 December 2013): We've double-checked and confirmed with Xiaomi Taiwan, and the company would like to clarify: although nothing has been officially decided, the company's next overseas market will "most likely" be Southeast Asia, with its first stop "most likely" in Singapore.
Today top executives from up-and-coming Chinese hardware firm Xiaomi paid visit to Taiwan, where the company held one of it's "popcorn" gatherings for fans and conducted a press conference for domestic media. As its final major event of the year, the event served as a capstone to the company's busy 2013, while also setting stage for its expansion beyond the mainland.
Go Southeast, young man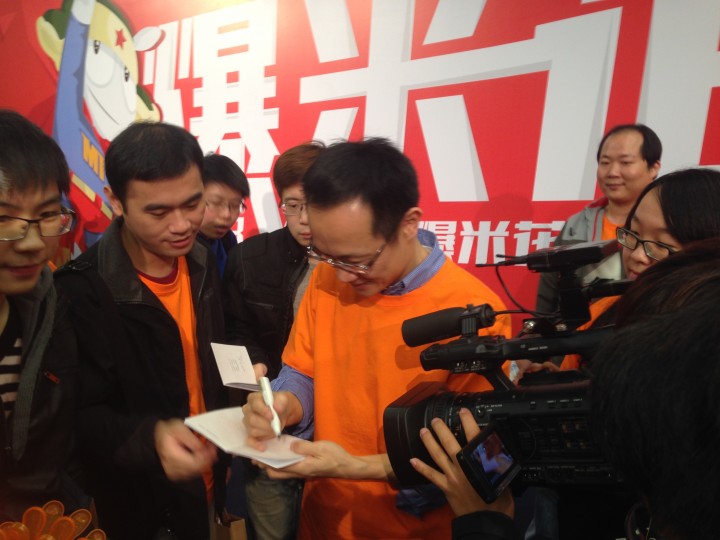 At the press conference, Xiaomi president Lin Bin, vice president Li Wanqiang, and newly-appointed vice president Hugo Barra, the former Android mastermind that was spectacularly poached from Google, revealed the answer to the question that's been on everyone's mind: where will Xiaomi go next?
"I've been spending a lot of time with potential partners in other countries, in Southeast Asia primarily," Barra said. "We just came back from a trip to Singapore a few weeks ago, and we're trying to get our operations for Southeast Asia set up as quickly as possible."
When pressed to elaborate on why Singapore was chosen as a starting point, Barra noted: "It's an important hub for the region. A lot of businesses start there, so that's why we researched that area first."
None of the executives gave an exact date for its launch in Southeast Asia, but the team remained firm that it would make its way there starting early 2014.
What will Xiaomi's business operations look like internationally?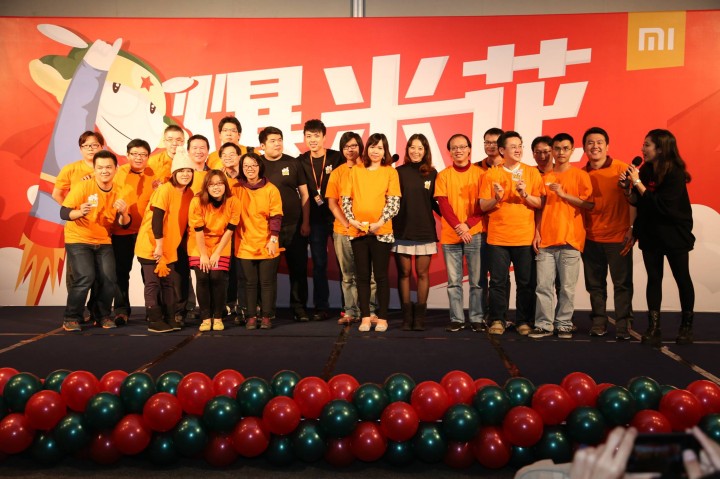 Judging by comments from Barra, Lin, and Li, Taiwan indeed has served as a market where Xiaomi can test the waters as it moves out of mainland China.
The company began its operations on the island in April of this year when it began selling its Mi-2s devices through local carrier Far East Zone. Since then, it has also begun offering the phone for sale through its website. Regarding deliveries, Xiaomi partnered with local logistics giant T-Cat, which even provided the company its own room for storage. Last November, it inked a sales partnership with local e-retailer PCHome. Yesterday it announced a partnership with the Family Mart convenience store chain, enabling customers to pick up purchases at nearby storefronts. Its local office has also doubled in size, from three employees to six.
And of course, to top it off, the company will be holding one of its trademark flash sales on Monday through its official website, this time for customers eager to get their hands on the budget Hongmi smartphone.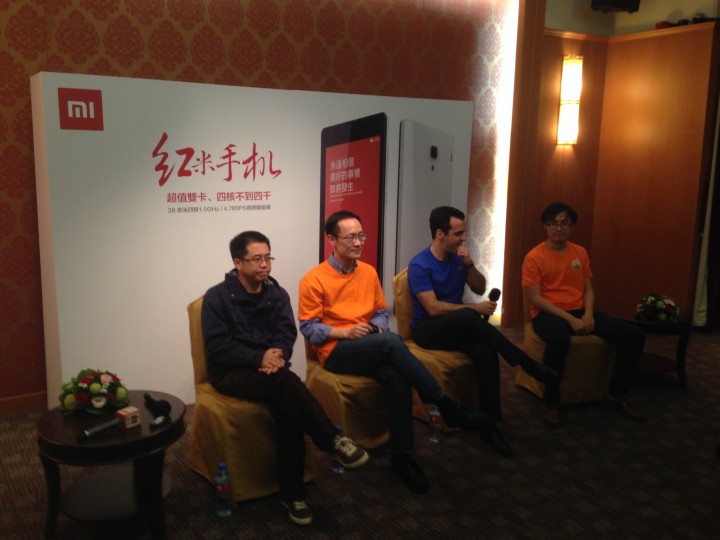 Xiaomi's executives noted that its sales strategies might change depending on the demands of its new markets, but letting consumers choose their preferred method will remain a key component. Barra explained:
Our strategy is always to do what our fans want and meet what they expect us to do. So when we enter a new country, we want them to have options. So like here in Taiwan, you can buy a phone either directly from us, pay full price, and choose any carrier you'd like to use. Or you can buy it with a subsidy. This is a good choice. Our philosophy for the rest of the world, including Southeast Asia, is exactly the same. In some countries, carriers act like they do in Taiwan. They're in the business of selling phones and offering subsidies. In other countries they're not. So our strategy will vary a little bit from country to country.
What's the deal with these "Xiaomi Stores?"
Several media representatives pushed for clarification on the Xiaomi storefronts that have been popping up throughout the mainland. Li emphasized that these outlets were not "stores" but "service centers," with "service" including but not limited to device repairs. He added that the company will deliberately avoid placing the centers in electronics malls, instead opting for locations close to public transportation, and with an eye towards creating a "coffee-shop"-inspired experience.
According to Li, there are 18 Xiaomi service centers currently in mainland China. As part of its trip to Taiwan, the team scouted out potential locations near Taipei Main Station, the city's main transportation hub.
It's all about the fans
Much has been written about Xiaomi's success in building a brand that inspires loyalty. While the contents of Xiaomi's fan events will no doubt have to be adapted for different markets as the company expands, the energy today was nearly tangible. This is a company with a message.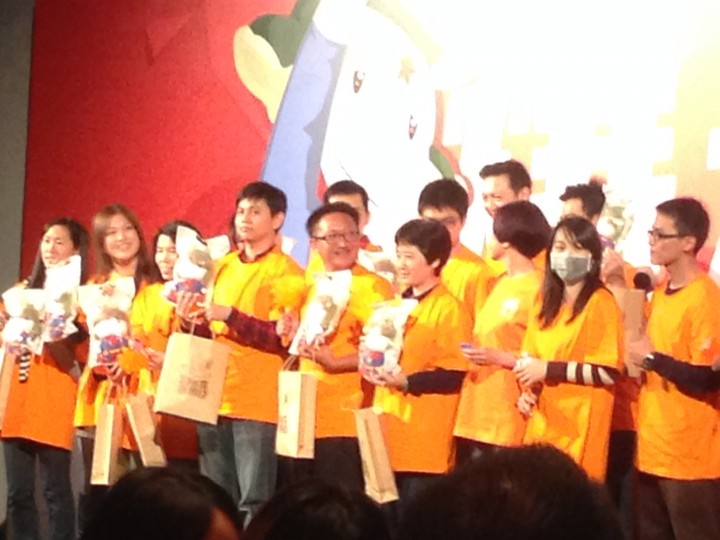 Over three hundred Xiaomi fans donned oversized orange t-shirts and and gathered in a hall at the Taipei International Convention Center. The proceedings leaned towards the goofy and the un-pretentious – pretty much the opposite of the sentiments that Apple conveys at its public gatherings.
At the session's start, Xiaomi's beautiful emcee took the stage and greeted the audience in her best Taiwan dialect, and then quickly invited fans onstage to dance to – what else? – Psy's "Gangam Style."
Party games and game show-style quizzes ensued. Xiaomi employees addressed the audience intermittently to reiterate the company's mission and its appreciation for its fans. A Xiaomi representative teamed up with a fan for a saxophone rendition of "The Entertainer".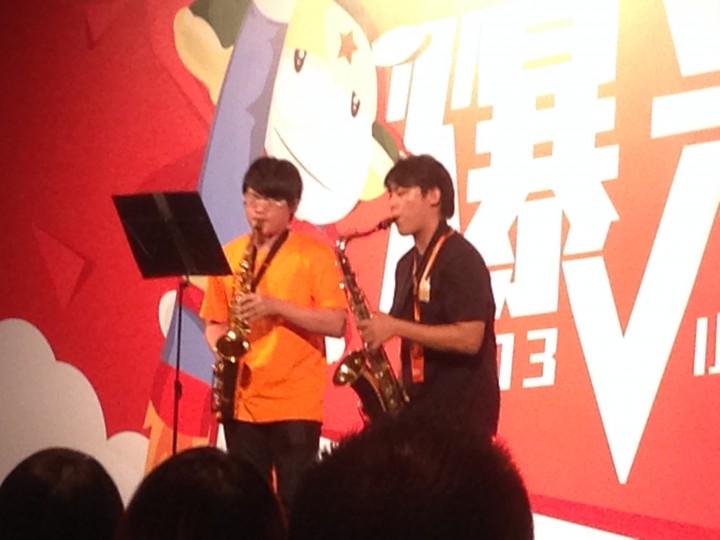 But the real kicker came when Hugo Barra took the stage. Sporting a ruffled shirt, a moppy wig, and sunglasses, the man not only danced but sang the Chinese-language lyrics to a song by Wu Bai, the Taiwanese pop icon.
Xiaomi claims to have sold over seven million phones in the first half of 2013, and anticipates that figure will exceed 19 million by the year's end. Next year, it hopes to double its phone sales. If Barra is willing to learn a little Indonesian or Thai and dress up as Southeast Asia's hottest pop star, expect it to quadruple.
(First and third images via Facebook)
(Editing by Terence Lee)