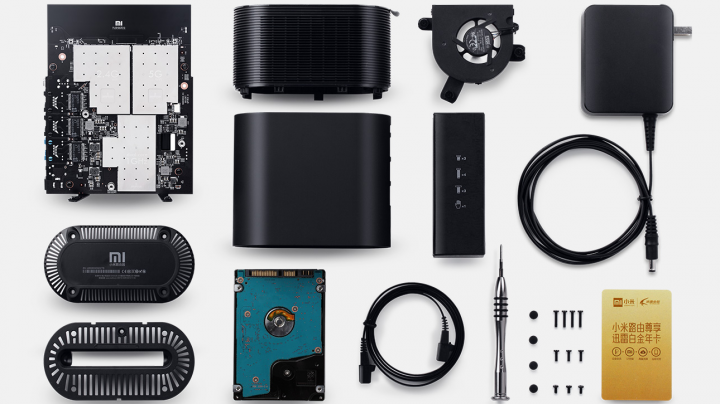 Back in mid-November, Xiaomi hinted at a mysterious new device that [looked like a Mac Pro], and turned out to be a smart wi-firouter sort of like the Apple Airport Extreme. No specs or price points were given out at the time, and given the somewhat mundane nature of the device, we were prepared to let this gadget remain in Xiaomi's sizeable back catalogue of "non-essential accessories." All that was revealed, aside from the design, was that the router would be launched "in beta" on December 19.
Today Xiaomi revealed what it meant by "in beta," and it's not what we expected. The router will be available initially in a special "commemorative engineer's beta" version (translation ours) that comes packaged in a beautiful wood case. When opened, users will see the routers' individual parts laid out… along with a screwdriver.
Further adding to the excitement is the router's limited availability. The first batch will be limited to just 500 customers fortunate enough to snatch it up on Thursday's flash sale.
The price? According to the official website for the device, just RMB 1 (about $0.16). The storage? A whopping 1TB.
Hugo Barra sent out a post on Google+ earlier this evening declaring the set as the embodiment of "the Christmas hacker spirit."
There are a few elements at play that help this device embody not just the hacker spirit, but the Xiaomi spirit as well.
Xiaomi has gained mass appeal in mainland China for its ability to satisfy users across the broad spectrum of Android, ranging from customization geeks to would-be Apple fans. Of course, the former group would likely be more interested in a build-it-yourself router than the latter. However, Xiaomi might be hoping that once this mundane hunk of silicon and plastic gets in the hands of a few dedicated users, excitement will spread, and so will the router.
In other Xiaomi related news today, the company held its second-ever flash sale outside of mainland China, once again in Taiwan. Whereas last time the company cleared out 10,000 Hongmi phones in nine minutes, today the same number of phones were claimed in just one minute and eight seconds. This could merely be due to improved server infrastructure on the part of Xiaomi, however, and as we noted before, the number to look out for in flash sales like these ought to be the number of registrations, not necessarily the rate at which the devices sold out.
(Editing by Steven Millward)
(Image via Xiaomi)