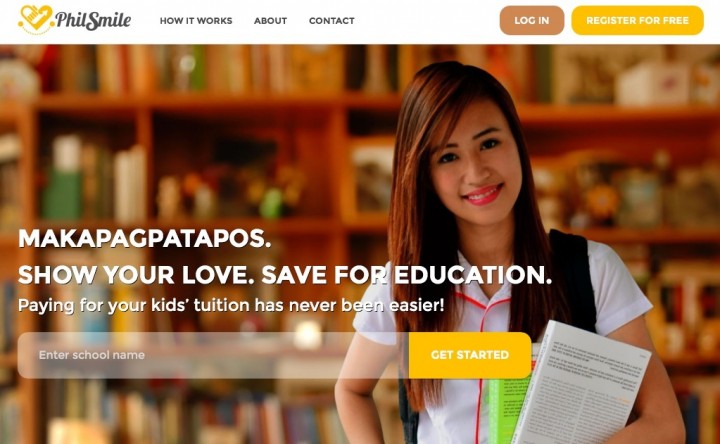 Philippine education payment startup PhilSmile announced it received an undisclosed amount of seed funding from international airtime remittance service TransferTo CEO and founder Eric Barbier.
Soft-launched in February, PhilSmile taps on a potentially huge market – overseas Filipino workers – for an educational payment system. The service lets individuals abroad pay for their children's or relatives' school fees, with the choice of making a one-time total payment or breaking the cost into multiple payments.
By partnering with Philippine schools and universities, it offers direct-to-school payments and removes the need for third-party platforms in settling school fees. By allowing users to pay the fees in small amounts on a weekly basis, people can more easily save up for their families' education. PhilSmile CEO Camille Krejci explains:
The weekly payment works as stairway steps, where overseas Filipinos can pay a small amount at a time. It's especially useful when their contract ends before the next school year. They can contribute when they earn well overseas and avoid gaps.
See: 5 web-based money transfer services for Filipinos around the world
Following this funding, PhilSmile is set to expand its network of partners and clients. It aims to grow its partner schools in the Philippines while also building partner merchants and payment platforms in different countries such as Singapore, Hong Kong, the US, the UK and Dubai. To do this, it will tap on TransferTo's network of participating merchants which currently has a distribution network of more than 200,000 points of sale.
It also aims to grow its customer base through various community-driven activities, such as financial literacy and self-empowerment workshops overseas and in the Philippines.
In 2013, Filipinos living overseas sent a total of US$25.1 billion in remittances to their families. From this number, according data gathered by PhilSmile, five percent – or about US$1.3 billion – was spent on education.