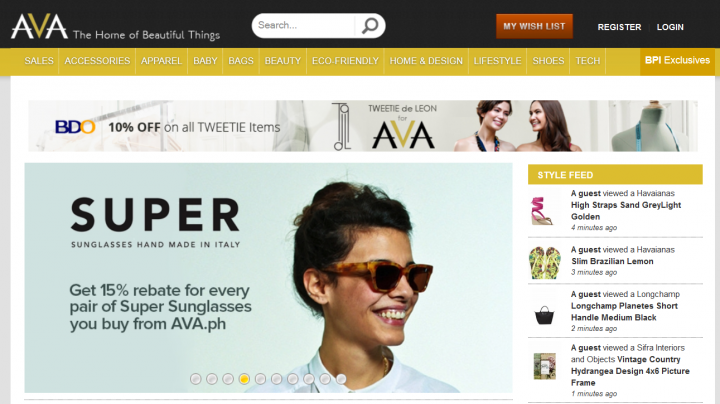 The fashion industry is the fastest growing segment in Asia's e-commerce industry. One of the countries taking part in this growth is the Philippines, where the luxury market alone is worth $400 million. Today, only a small percentage of this fashion market is online. That's why fashion e-commerce startup AVA believes in making premium fashion and design brands available online, something that can also aid the growth of the local fashion industry.
Leveling the playing field
Backed by Kickstart Ventures and Hatchd Digital, AVA has slowly shifted from being a flash sales site into what is now a platform to launch new design brands. Plus, the e-store has its own private label merchandise. While it still runs flash sales, according to AVA's CEO, discovery of new brands has been the driving force behind its double-digit monthly growth.
AVA CEO Oliver Segovia says this move to be a platform for fashion brands stemmed from the realization that there is a "huge market among local customers for newly-discovered brands." He adds:
Our customers aren't on AVA just because of the bargains – but because of the overall shopping experience in discovering and supporting new brands.
As an e-commerce platform, AVA not only looks to get revenue from sales, but also to help brands to enter the Philippine market. He says, "in Manila, it can take up to three years for a new brand to find retail space, as the growth in demand outpaces the growth of new malls. And when a new mall launches, it's usually the established players who get preferential access to prime real estate." This is the reason "why e-commerce has become a more attractive channel for both local brands and international labels looking to enter the market. It levels the playing field."
Ava currently carries emerging brands like Sunksi (vintage Australian sunnies that became a hit on Kickstarter), local social enterprise venture Rags2Riches (manufacturer of eco-ethical bags from recycled materials), and Thread 365 (a Filipino brand that uses all-natural cotton as the primary material for its clothing).
Simple and informative shopping
In addition to these brands, AVA launched its private label collection in May, called Tweetie de Leon for AVA. The collection is a collaboration with Philippine style icon Tweetie de Leon. It features clothing, bags, and accessories available exclusively on AVA. When asked why the startup launched its own in-house label, AVA product development director Agnes Mendoza says:
There are a lot of export quality manufacturers in the Philippines. […] But what these SMEs need is help with marketing and distribution. Because we don't have to spend for brick-and-mortar stores, we can sell the same high quality products at a lower price. Everyone wins.
Apart from its own collection, AVA has more than 120 brands on the site. But Oliver explains that there will never be more than 300 brands carried on AVA at the same time in order to avoid a cluttered shopping experience. "We're trying to keep it small and manageable," he says.
AVA built its discovery shopping-centric platform with three features: curation, social shopping, and editorial. It's a common formula among fashion e-stores. A Style Feed showcases all the items being viewed and bought on the site in real-time. In addition, its email newsletters are editorialized, featuring items on the site with descriptions that educate and inform customers.
AVA is up against other well-known fashion e-commerce sites in the Philippines like Chicify and Rocket Internet's Zalora.
(Editing by Steven Millward and Paul Bischoff)