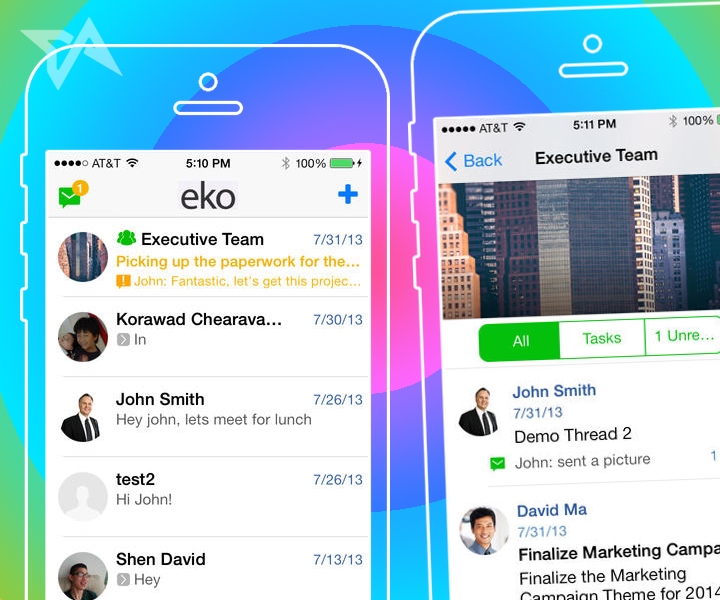 Eko is one of a new wave of stripped-down, souped-up business messaging apps. Today the Thai-American startup revealed that it has secured US$1 million in seed funding from 500 Startups and unnamed angel investors.
Eko's apps for iOS and Android are reminiscent of the simplicity of WhatsApp or iMessage, but also add in a few extra tools for enterprise users, such as tasks and networks. There's also a web app for desktop-based users. The startup launched the service last September.
The messaging app is up against a ton of biz-focused rivals, such as HipChat, Flowdock, Convo, Cotap, Fleep, and TigerText. They're all treading on the toes of venerable enterprise platforms like Yammer and Campfire.
(See: What really goes on at 500 Startups, as told by the founder of Builk)
Khailee Ng, venture partner at 500 Startups, explained the appeal of Eko in today's announcement:
Modern enterprises are already mobile savvy, using consumer apps like Whatsapp or WeChat to communicate with colleagues. However, these apps are not designed to meet enterprise needs – Eko is.
The startup's CEO and co-founder is Korawad Chearavanont, 19 years old, who's now a student at Columbia University. Korawad is the son of billionaire telco tycoon Suphachai Chearavanont, the president and CEO of True.
Eko was started up from Korawad's New Jersey boarding school dorm room, and has since opened up its business office in Bangkok. The main product office remains in New York.