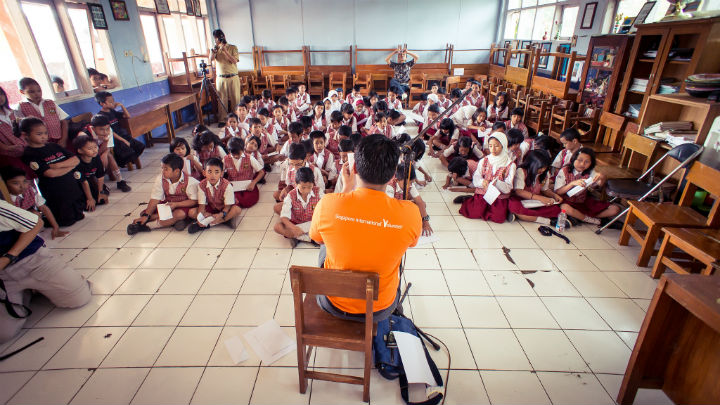 The World Bank calls Indonesia's school system "immense and diverse." With more than 50 million students and 2.6 million teachers, the archipelago has the third largest education system in Asia and the fourth largest in the world.
But as many parents in the capital city Jakarta can agree, quantity does not necessarily indicate quality. Primary school net enrollment rates are below 60 percent in poor districts. Net enrollment rates for secondary educations have climbed in recent years – to 66 percent in junior high schools and 45 percent in senior high schools – but these figures still remain low when compared to other countries in Southeast Asia.
Government fails students
While previous president Susilo Bambang Yudhoyono pledged to spend US$7.6 billion in education expenditures this year – a 7.5 percent increase from last year – The Wall Street Journal claims education remains the most corrupt sector in Indonesia.
According to a survey conducted by Indonesia Corruption Watch (KPK), the nation's anti-graft watchdog, corruption actually worsens in Indonesia as the government spends more on education. The more spent, the more stolen. Of the 436 cases law enforcers handled as far back as 2011, 54 of those cases were directly associated with corruption in education. For 2014, the KPK's numbers still remain to be seen.
See: Indonesians crack down on corruption with crowd reporting site
It would not be too bold to say that locals are "sick and tired of being sick and tired" with poor education and a lack of executive solutions. This is probably why edtech companies that bypass the education system entirely are gaining public interest in Jakarta. While there are several newsworthy edtech startups in the country, only a handful have real disruption potential. Here's a list of some of them:
Tutor
Founded in 2012, Tutor brands itself straightforwardly as Indonesia's online marketplace for connecting students and private tutors for in-person lessons. The site caters to all ages and education levels, and does not limit the disciplines users may offer each other. According to co-founder Brian Arfi Faridhi, Tutor.co.id went online because as an offline tutor connection business, the phone bills became too expensive.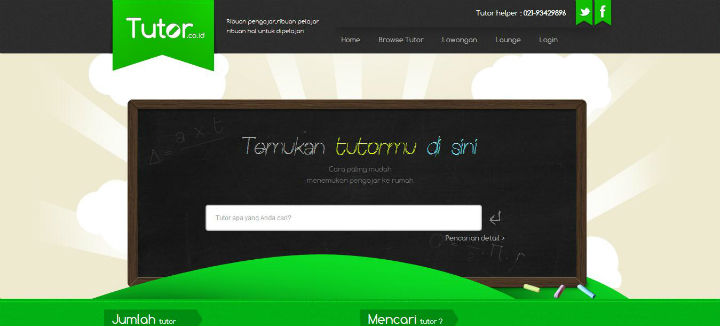 Kelase
Kelase operates strictly in the digital realm, providing online learning spaces that promote social collaboration. Kelase offers mobile access, and provides several apps and gamification elements for featured subjects. The company was founded by Brimy Lakshmana and Winastwan Gora, long-time veterans in Indonesia's tech industry, and former employees of Intel Indonesia.
GoeSmart
GoeSmart claims to be Indonesia's premier social networking site for students, teachers, schools, parents, and the general public. Apart from a cloud bank of lesson plans and a knowledge store for teachers, GoeSmart also offers a feature called G-Messenger. The chat app allows all concerned parties to communicate in a closed forum to discuss the student's lesson progress and learning needs.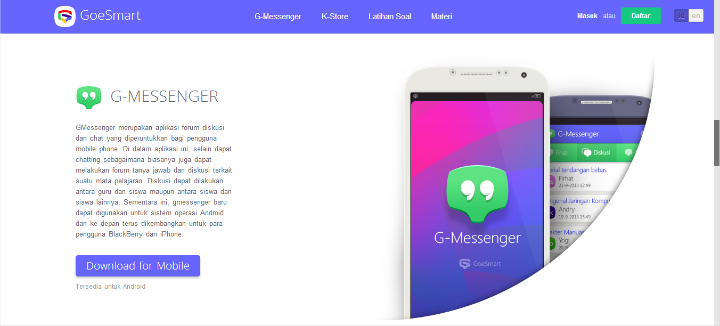 HarukaEdu
HarukaEdu is an education portal where users can participate in a variety of formal and informal online courses and earn certifications. They can even get bonafide college degrees. HarukaEdu has partnered with local universities, including the London School of Public Relations and STM Labora. It also works closely with the local Founder Institute and JobsDB.com to promote its technopreneurship online course.
See: HarukaEdu e-learning business in Indonesia, focusing on the online certifications (in Bahasa Indonesia)
A new nervous system for education
As Indonesia's tech products diversify, the public's reliance on the government as an education provider could decrease. In January, Said Irandoust, professor at the Indonesia International Institute for Life Sciences in Jakarta, wrote an op-ed piece for The Jakarta Post on the future of Indonesia's education system. In it, he says:
By 2020, Indonesia will have one of largest college-going populations in the world. This chunk of the population requires internationalized higher education, as they will shoulder Indonesia's economic development journey. The time for internationalization of higher education, research and innovation in Indonesia is now."
Image of Indonesian classroom via Flickr user Zhao !