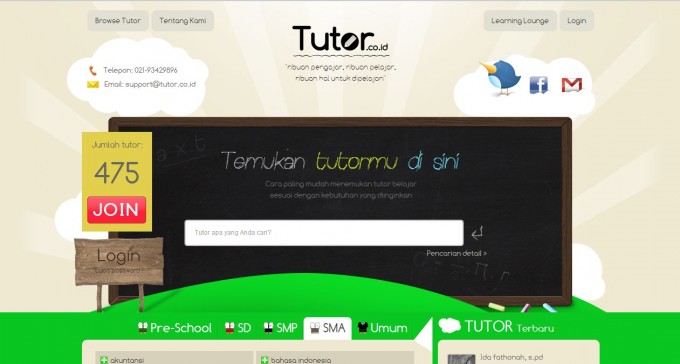 In Indonesia, connecting tutors with the right students has become a business, for which many are charging a commission. And INAICTA finalist Tutor.co.id aspires to digitalize that business. We spoke to Brian Arfi Faridhi, the co-founder of Tutor, about what inspired him to create such a startup, and what they have planned moving forward.
Brian describes Tutor as a marketplace for tutors and private teachers, and the idea is to help students and parents find qualified tutors, and vice versa. The other co-founder, Irwan Rahman was already running the business offline before launching the online startup. He says that the offline business ran up massive phone bills, and there was a huge, manual effort involved in going back and forth confirming the bookings of students and tutors. The Tutor website is built to solve that problem, while also helping reduce the unemployment rate in Indonesia.
Tutor was beta launched in May of this year. At the moment, there are 475 registered tutors on the site with 45,000 pageviews recorded last month. Brian explains that they are still focusing on gathering tutors now, rather than marketing to students. They are looking to start using ads and more SEO skills now, so the team remains very positive about the future.
Tutor takes a commission from the tutors' earnings, and that could be as much as 20 percent for first-time users, or around 10 percent for repeat educator users. Brian explains that it is normal for the tutors to give a commission only for the first few months, and then continue the tutoring outside Tutor.co.id. Brian is okay with that, and believes that the tutors will always come back for help finding new students. Another benefit of working with Tutor.co.id is the tutor rating system, where students leave their feedback after tutoring sessions.
Brian said that he has yet to see any online rivals. Regarding conventional tutoring agencies, he considers them to be potential partners rather than competition. He is looking to find appropriate business models for such partnerships in the near future.
He believes that the online tutoring business model is both a proven one and a simple one – the key is executing it well. Brian has met with a few VCs and investors, but there's no done deal yet. He notes that he's not aiming to sell the business as an exit strategy; rather, he wants it to grow and benefit people around him.
In Singapore, it seems like people there are teaching and selling more than just the average tutoring programs, but skills as well such as Learnemy and Kezaar. I think Tutor has a good chance to also expand its business by offering more general skills too in the future, if not now.