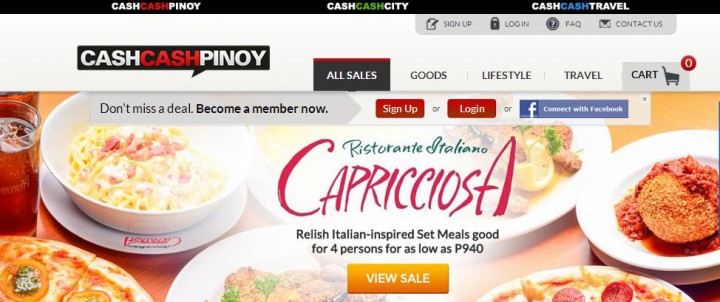 E-commerce is definitely making some noise in Asia. And the Philippines is no exception to this, especially in the daily deals segment. We've already listed 18 top daily deals sites present in the Philippines, so it's clearly a tough sector with lots of competition. Some sites are struggling, but some stay strong. One of the latter is CashCashPinoy.
CashCashPinoy started in 2010. Today, it has expanded its products and services to more than 650 live deals daily. CashCashPinoy founder Frederic Levy says that to provide variety for consumers they launch 150 product collections every month. The startup is looking to double it later this year.
What makes it work?
CashCashPinoy's offerings — which span products, restaurant deals, and travel accommodation — are mostly sold at discounted prices that are cheaper than in retail stores. Frederic says he chose discount positioning for a good reason: he wanted something appealing for an e-commerce business, and he knew that "price is key." He adds, "What sells in the Philippines is discounts."
CashCashPinoy claims that it has already allowed its members to save PHP 1 billion ($23 million) in total since it started selling products. Frederic says that it has led each of their members to save up to PHP 6,000 ($138) on average. CashCashPinoy brought in $7 million in revenue in 2012, and expects to hit $11 to $12 million this year.
Overseas plans
E-commerce is still young in the Philippines. Frederic thinks that the landscape is now changing in the Philippines. He says, "If you are not online, you are dead. [Retailers] have to rethink their mindset."
So what changed? Frederic says everything changed. More and more people are now buying online. CashCashPinoy alone already has one million members. This will cause all retailers, like restaurants, shops, travel agencies, and even banks, to act. Frederic shares that when CashCashPinoy started, many companies were hesitant to form a partnership. But only six months later, Frederic says, those businesses were suddenly very eager to maker partnerships and are already looking at the e-commerce site as a new way to profit and win over new customers.
For aspiring e-commerce startups, Frederic says that "standard is a key advantage." And by that he means the quality of the products sold, and the service alongside. He adds:
Online businesses must give the same quality of service as to offline customers. Not less, not more. It's also a must to know how to source, to sell, and to distribute.
Frederic speaks of his contentment with CashCashPinoy's stature in the Philippines. When asked about plans for the e-commerce site, he says he wants to "keep the numbers without sacrificing the quality," and he will also look into expanding outside of the country within the year.
Alongside CashCashPinoy, one other daily deals success story in the Philippines is MetroDeal. As we wrote earlier this year, MetroDeal has dominated the daily deals segment in the Philippines since it started.
(Editing by: Steven Millward and Anh-Minh Do)