Daily deals websites have been around for a while. My friends are always talking about the great deals they've found online, be it gadgets, restaurant discounts, even tour packages to remote and exotic locations — but I'm always late to the game. So I decided to brush up on all the top deal sites for this giant list.
The following is a compilation of just a few of the many daily deals sites that have popped up in the Philippines in recent years. As a metric, I've included the number of Facebook likes each site has tallied to date. Some are veterans in the e-commerce wars, others are relative newbies. Most are homegrown ventures, while a couple can trace their roots overseas.
Several of these sites are also categorized as group buying or collective buying sites, where a minimum number of buyers must buy into a deal or promo before it can be claimed. If this minimum number, or tipping point, is not met by the promo's deadline period, it is cancelled and no charges are made. The rest are your standard daily deals sites.
Facebook likes: 740K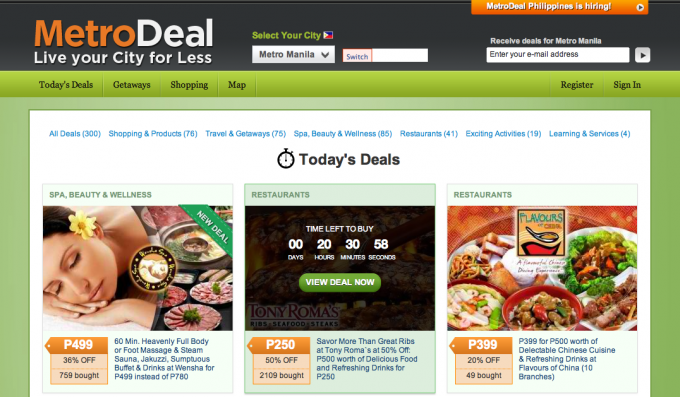 In terms of daily deals sites, MetroDeal still leads the race. It reports around 2,000 merchants as of last year and is currently gaining around 1.5 million unique visitors per month, according to Alexa.
This year, a few new features are available for its customers: Metrodeal now has a mobile app for iOS and bitcoin is now an additional payment method for its customers.
Facebook Likes 521K

Founded in 2010 after first-hand frustration in bargain hunting in the malls of Metro Manila, Cash Cash Pinoy features a lot of fashion products, gadgets, and travel packages. Delivery is free nationwide, and the site promotes fast, priority shipping, with hassle free returns. Payments can be made, as with most e-commerce sites, via credit card, PayPal, GCash, bank deposits, or even over the counter at a 7–11. Similar to Metrodeal, it has started accepting bitcoin payments on its site. It reports around 650 deals on a monthly average last year.
Facebook Likes: 528K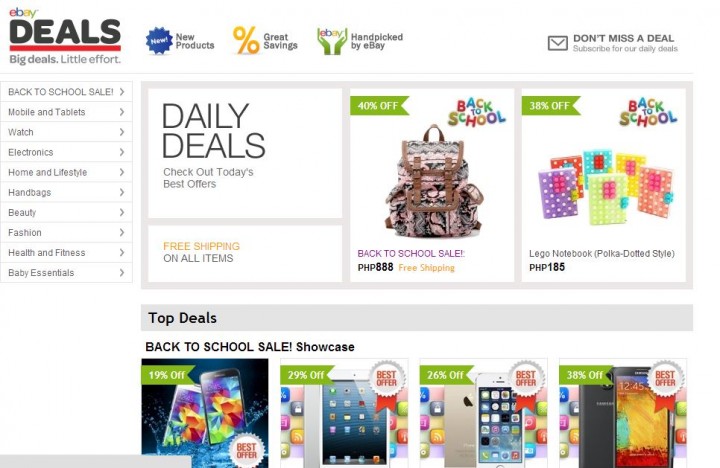 It was in October last year when eBay Philippines launched its revamped site. Along with it is the launch of eBay Deals, the sub-site within eBay offers discounted items from eBay sellers. Compared to eBay's regular offerings, eBay Deals usually offers larger discounts. On top of that, almost all of the deals here are offered with free delivery. However, unlike other deal sites, the payment terms are varied, depending on what the specific seller imposes.
To ensure the quality of the offerings of the deals, eBay has specific eligibility requirements for its sellers regarding customer feedback and average ratings.
Facebook Likes: 503K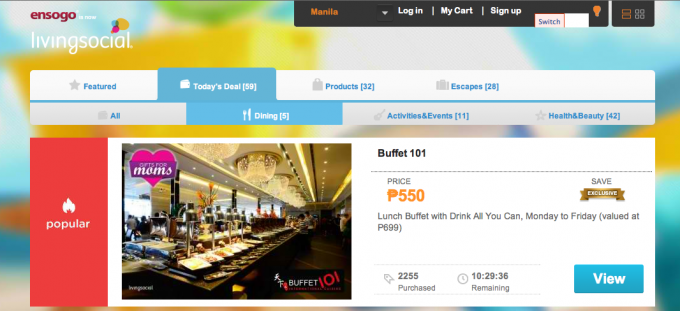 Originally created in Thailand in 2009, LivingSocial came to Manila in July 2010. Featured products range from restaurant vouchers to fully-packaged vacation deals. In February, it reported having 2.4 million registered users in the Philippines. However, LivingSocial is expected to be out of the daily deals race soon, as it sold its Southeast Asian business to flash sales company iBuy Group for US$18.5 million.
Facebook Likes: 159K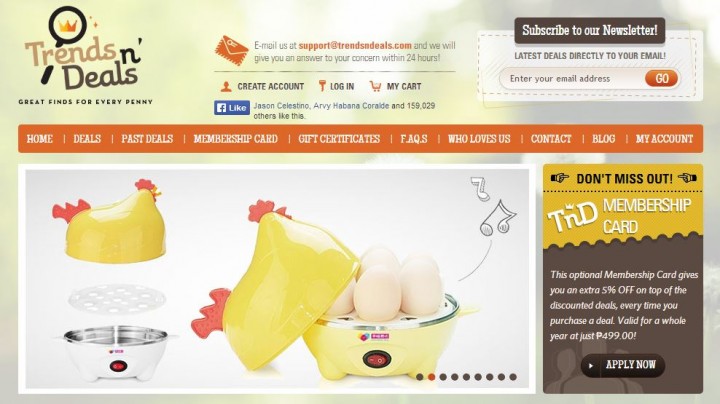 Trends N' Deals is a relatively new deals site which just entered the market in 2013. It offers a relatively wide array of deals such as gadgets, home appliances and clothes. This is coupled with a few restaurant and travel vouchers. Apart from the discounts, some of the items include freebies such as keychains or wallets as an add-on to the purchase.
Like other deal sites, all deals are offered for a limited period. Customers can pay using PayPal or cash on delivery.
Facebook Likes: 130K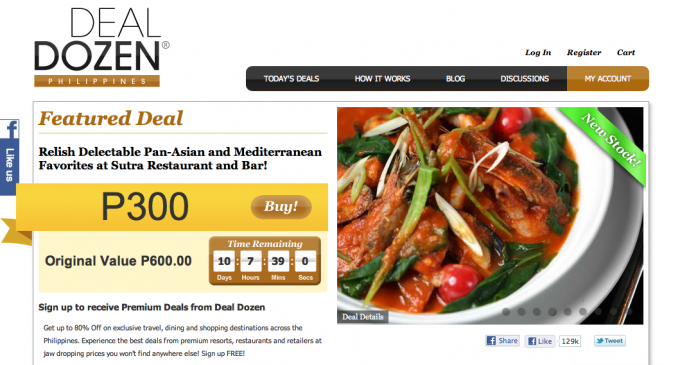 Deal Dozen advertises itself as a lifestyle website as opposed to general e-commerce. It hones in on beauty and luxury products and an abundance of educational programs for children. It offers 'buy and share' deals wherein you get special incentives if you share certain deals with friends on Facebook. In January, Asia Deal Group announced its acquisition of Deal Dozen. It is expected to be rebranded as Street Deal this year.
Facebook Likes: 105K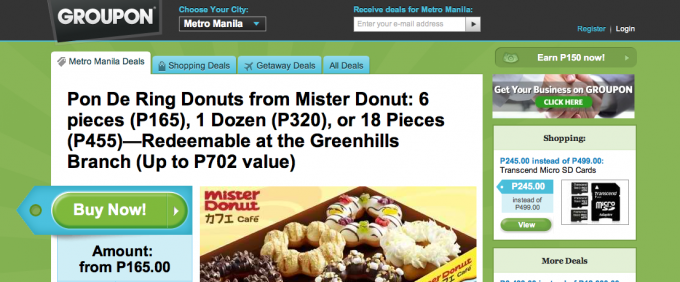 Launched in November 2008 in the US and officially arriving in the Philippines in February 2011. Groupon claims to be the fastest-growing internet company in history, reaching US$1 billion in sales in only 17 months. It has also been featured on the cover of Forbes and TIME as one of the top 50 websites in 2010. The catch is that for every deal, a minimum number of people must sign up before 12 noon, otherwise the deal is cancelled. No charges are made at this point, and the deal won't be completed.
Facebook Likes: 124K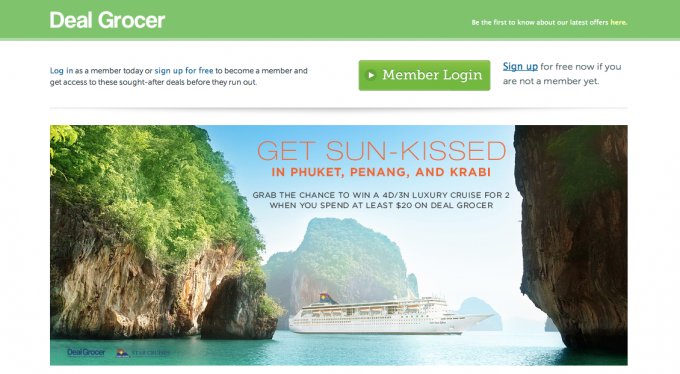 Similar to DealDozen, Deal Grocer aims for a more luxurious and lifestyle-oriented approach to daily deals. It offers fine dining, exotic vacation packages, beauty products, and treatment packages. Purchasing a deal nets you either an electronic coupon delivered to your email, or an actual gift voucher delivered to your address. Deal Grocer claims its featured deals are exclusive to its site, not available elsewhere, not even directly from the merchant. Details of the deals are only accessible to registered users. All prices are in US dollars, so even over-the-counter bank payments are at US dollar rates.
Facebook Likes: 103K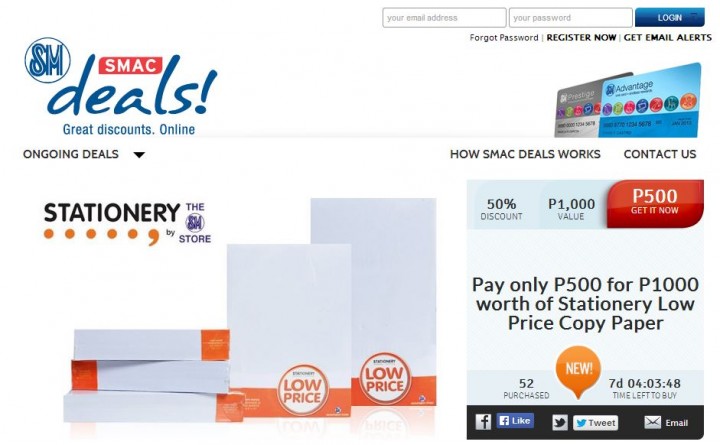 SM is the chain of malls with the biggest presence in the Philippines and SMAC Deals is its take on the daily deals trend. It offers discounted items of different merchandise that are also sold in its malls. However, access to the deals is exclusive to owners of the SM Advantage Card, its loyalty rewards program. The deals are also offered for a limited time and a customer is limited to only one of each posted item. Payments can either be done via credit card or over the counter at SM malls.
Facebook likes: 81K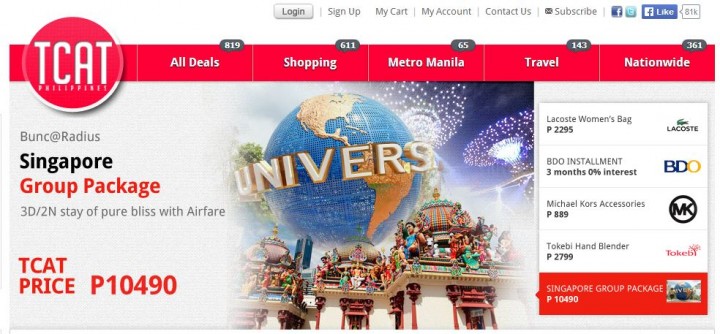 TCAT (pronounced as ticket) launched in 2011, offering similar deals to Filipino consumers. It has varied offerings – available deals on the site daily are usually in the hundreds. These deals are spread across vouchers and items such as beauty and wellness vouchers, clothings, home appliances and travel packages. Likewise, customers have plents of payment options – from credit cards to over-the-counter bank payments.
Facebook Likes: 69K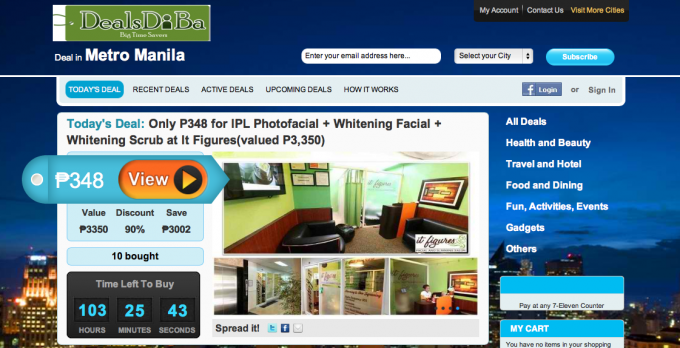 DealsDiBa is based heavily on Groupon. Unlike Groupon, which deals in pretty much anything and everything under the sun, it takes the high society route, offering an unbelievably large selection of beauty products, treatment plans, luxurious fine dining, and exotic destination vacation packages. Payments can be made through the usual channels, credit card, PayPal, over-the-counter. And like Groupon, each deal needs to meet a minimum number of buyers, otherwise it's cancelled and no charge is made.
Facebook Likes: 27K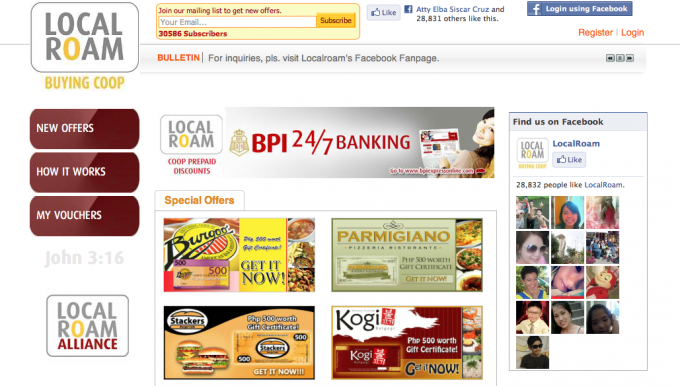 LocalRoam launched in 2011 focusing on travel, wellness, lifestyle, and workshops or events. Today, LocalRoam only focuses on travel-related deals such as hotel accommodations and travel packages.
Facebook Likes: 27K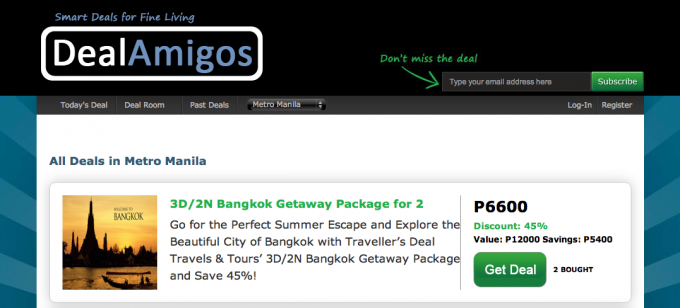 DealAmigos comes off as a deals site similar to the rest. It offers free registration and printable vouchers to people who purchase on their site. However, its deals are not varied enough. The number of deals posted on their site usually just range between 20 to 30, mostly focusing on beauty and wellness.
Facebook Likes: 67K

A-Deals is Philippines' Ayala Group of companies' take on daily deals. Ayala Group owns predominant business entities in the Philippines such as malls, real estate properties, banks, and more. It partners with its brick-and-mortar merchants in its malls to bring them online. As such, higher quality deals are found on the site, though they come with a slightly higher price tag. Deals include designer label clothing, fine dining, beauty products and treatment, and movie tickets. What it doesn't have are travel packages, a common denominator for the other daily deals sites. Credit card, PayPal, and over the counter at BPI payment modes are available, and you get a coupon for redemption once payment is made.
Facebook Likes: 32K

OkayOkay plays on the Filipino word Ukay-Ukay, which has come to mean thrift or discount store – often secondhand items. But do not be misled, OkayOkay sells new stuff. Like the other deals sites, it offers them at discounted prices. Purchases are payable via credit card, PayPal, and your run-of-the-mill over-the-counter bank payments. For merchandise orders, it provides free delivery of the order nationwide.
Facebook Likes: 4K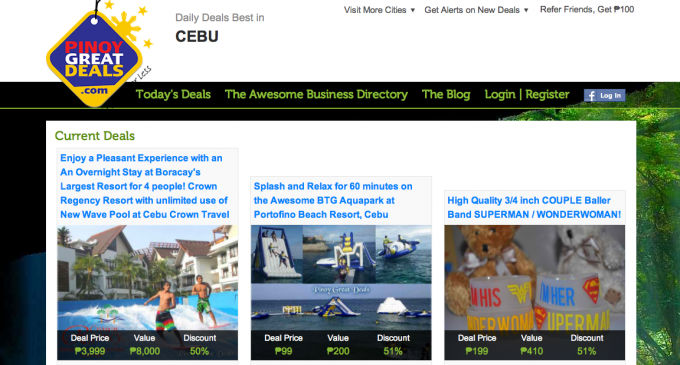 Unlike other daily deals that mostly offer Manila-based deals, Pinoy Great Deals offers deals both in the Metro Manila area and Cebu. It accepts varied payment options such as credit cards, Paypal, over-the-counter-bank payments, e-wallets, and more. For customers based in Cebu, they can also opt to settle payments at their office.
To attract more users, it has a referral program where the customer is given PHP 100 (US$2.43) credits for recommending friends to join up.
Facebook Likes: 2K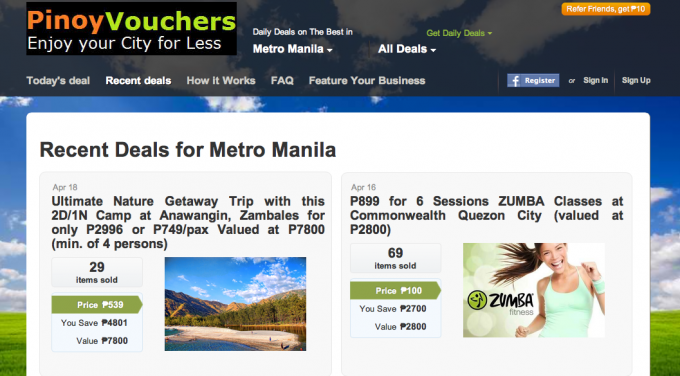 Pinoy Vouchers is another group buying site and shares a lot in common with others of its kind. You get the standard voucher system – a coupon you can print after purchasing so you can redeem your deal. You can pay via credit card, PayPal, or over the counter at banks. The bulk of its deals are on beauty and wellness and  different workshops.
Facebook Likes: 1.7K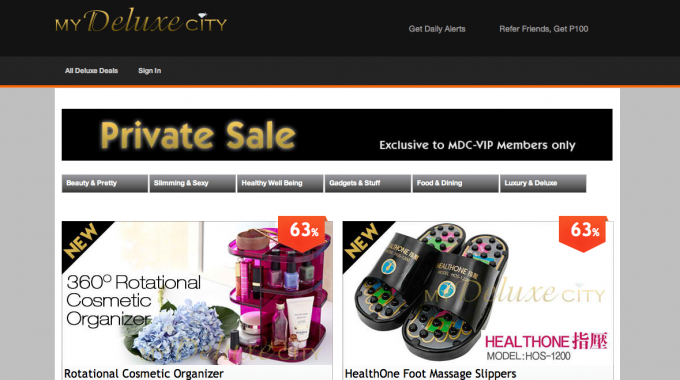 My Deluxe City mostly offers beauty and grooming products and salon vouchers. This is coupled with a few gadgets and clothing items. Unlike other deals sites, no vacation packages are offered here. My Deluxe City has a section called 'private sale', which is supposedly exclusive to MDC-VIP members, but after creating a quick trial account, these VIP deals appear to be accessible to all.